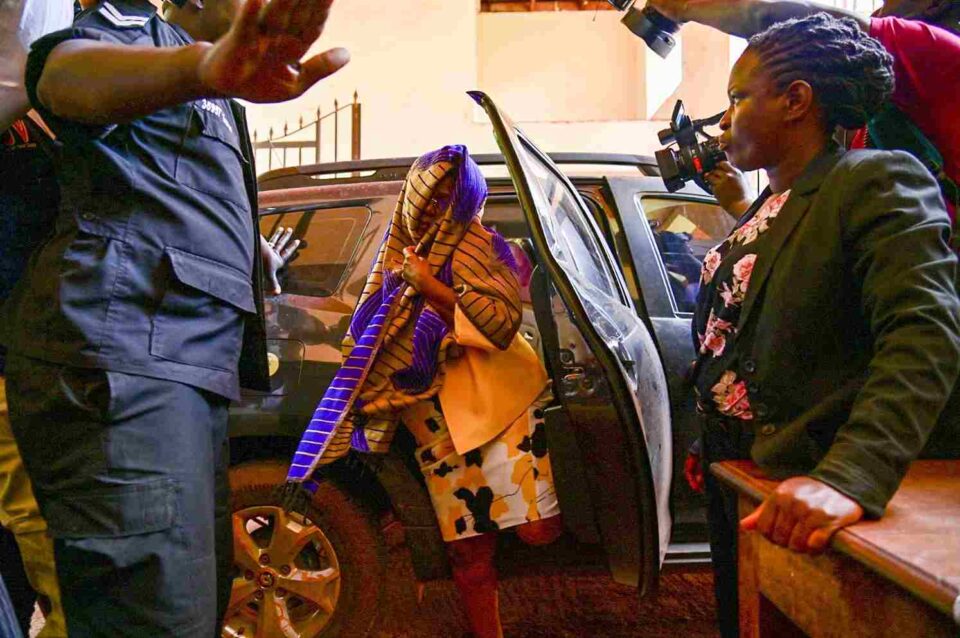 Camera shy? Karamoja affairs Minister appears in anti-corruption court veiled up
By Wod Omoro
Kampala – The Minister for Karamoja Affairs, Mary Goretti Kitutu Kimono arrived at the Anti-Corruption Court in Kololo on Thursday, April 6th to face corruption charges.
She's jointly charged with her brother, Naboya Kitutu Micheal, 52, a peasant and Joshua Abaho, 46, Senior Assistant Secretary, Ministry of Karamoja Affairs in the Office of the Prime Minister.
Abaho faces two separate charges of corruption while Naboya faces a separate charge of receiving stolen property.
The minister alongside Abaho, are jointly charged with a separate offence of conspiracy to defraud.
The Director of Public Prosecutions (DPP) under the charge of loss of public  property,  contends that between June 2022 and January 2023, at the OPM stores Namanve, Mukono district, the minister caused loss of public property in form of 9,000 pre-painted iron gauge 28 by diverting the said iron sheets from the intended purpose of benefiting the Karamoja community empowerment programme to her own benefit and to the benefit of third parties, having reason to believe that such act would result into loss of the said property.
Under count two, she is accused causing the loss of 5,500 iron sheets.
Kitutu had been held in police custody prior to her appearance in court. The Office of the Director of Public Prosecutions (ODPP) approved the charges against her, and the police was directed to produce her in court for a plea hearing.
IGG list of beneficiaries
  Jessica Alupo  (Vice President)
 Anita Among  (Speaker of Parliament)
 Robinah Nabbanja (Prime Minister)
 Rebecca Kadaga  (First Deputy Prime Minister/Minister for East African Affairs)
 Rukia Isanga Nakadama  (Second Deputy Prime Minister/Minister without Portfolio)
Matia Kasaija (Finance Minister)
 Judith Nabakooba (Minister for Lands, Housing and Urban Development)
Mary Kitutu Goretti (Minister for Karamoja Affairs)
Dennis Hamson Obua (Government Chief Whip)
Rose Lilly Akello (Minister for Ethics and Integrity)
The corruption case against Kitutu has sparked concern among members of the public who have been calling for accountability. and transparency in government affairs. Corruption has been a persistent issue in Uganda, with government officials often accused of diverting funds and resources meant for public use.
Kitutu's case is just one of several high-profile corruption cases currently making their way through the courts. The Anti-Corruption Court was established in 2009 to deal specifically with cases of corruption and has been instrumental in bringing corrupt officials to justice.