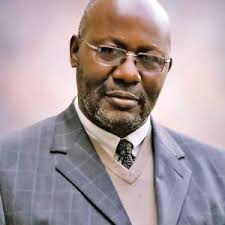 Prof. Ntambirweki described as dedicated, jovial, loving husband & caring father
By Evans Najuna 
Kampala – Professor John Ntambirweki who died on Wednesday 12th April, was the founder and Chancellor of Uganda Pentecostal University has been eulogised by family and friends.
At the requiem service on Thursday held at All Saints Nakasero Church in Kampala, his wife and children described him as a dedicated, jovial, loving husband and a caring father.
Peruth Ntambirweki while addressing said that her late husband was the most dedicated man she's ever met, adding that, once he insisted on something, you would not dare change his mind.
She explained that, he loved family, relatives and ensured all attained better education and in good schools. The widow further informed mourners that her late husband never believed in practicing law and reason, and was adamant to enroll early at LDC though he was always the best student in the Law School in the 1970s.
His children described the late as a charming, and caring father who stopped at nothing but ensured that they got everything they required to succeed especially in academic and descipline.
"Our dad bought each one of us a car at an early age while joining campus. All he wanted was to see that we never lack in anything," they said in unison.
The late died on 12th April 2023 after a cardiac arrest. The service was attended by different dignitaries from the government of Uganda.
Educational background 
John Ntambirweki tapped into political life as he was once the Chief of intelligence in Tito Okello Lutwa's government. He later went into exile in Nairobi and later to Canada as the current government took power, but later reconciled and returned home in the early 90s.
Ntambirweki was a Legal Scholar, taught and held various positions at many universities and institutions including Makerere, Uganda Christian University among others.
He later founded up his own university; Uganda Pentecostal University in western Uganda which has grown up to a population of 10,000 students.
Bachelor of Laws (LLB), Makerere University (1979), Master of Laws (LLM), University of Nairobi (1982), Post-graduate Diploma in Legal Practice; Law Development Centre (1997).
Biography
 2001 to 2023 – Vice Chancellor and Founder, Uganda Pentecostal University. 1994 to 2003; Senior Lecturer in Public Law, Faculty of Law, Makerere University.
1989 to 2010- Consultant in various capacities to UNEP UNDP, IUCNY ELC, PAC, FAO, IFAD, UNICEF, UNECA, ACTS, GTZ, DANIDA, IDRC, Government of Uganda, East African Community, SIDA, NEMA, in the following countries: Uganda, Kenya, Tanzania, Zambia, Malawi, Zimbabwe, Mozambique, Namibia, South Africa, Gambia, Cameroon, Senegal, Nigeria, Ghana, Sierra Leonne, Egypt, Pakistan and Ethiopia.
2000- Visiting Professor of Environmental Law, Mc George School of Law, University of the Pacific, Sacramento, California, USA.
1998 to 2000-Head Department of Law, Uganda Christian University Mukono.
1989 to 1990-Programme Officer, UNEP.
1987 to 1989-Lecturer in Public Law, University of Nairobi.
1987 to University of Nairobi 1981 to 1987 – Lecturer, Devonshire College of Accountancy.
1980 to 1981-Lecturer, Department of Marketing Uganda College of Commerce.
1980 to 1981- Part time lecturer; Institute of Public Administration.
1979 to 1980- Special Teaching Assistant, Makerere University.