RDCs' Reshuffle: Journalist Rwase eats big
By Evans Najuna
A Journalist turned Politician has been appointed Resident District Commissioner (RDC).
Robert Atuharwe aka Rwase's name was among those sent out today by the office of the President in the reshuffle.
According to the list, the former RedPepper Parliamentary reporter and editor was appointed the RDC, Rwampara.
Atuhaire was a Parliamentary candidate in the 2021 general polls. He contested for an MP seat for Kashari North.
Who is Atuhaire?
Atuhairwe hails from Orurembo cell, Kyandahi parish, Kagongi sub county in Kashaari, Mbarara.
He was a Parliamentary candidate in Kashaari North in last year's elections. He is a journalist and worked with RedPepper as a Parliamentary Reporter and Editor.
From 2017-2021, he was Head of Communications at President Museveni's Kyambogo-based office before he was appointed Political Assistant in the Office of the Minister for the Presidency, where his former boss at Kyambogo, Milly Babalanda, is the Minister.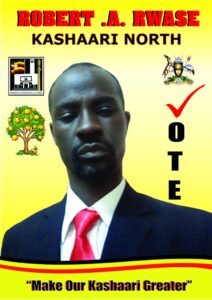 Atuhairwe, is an Old Boy of Rwamanuma Primary School, Kyambogo Primary School, Ntare School and Uganda Christian University (UCU), among other institutions of learning.
When contacted by this news site for a comment, a joyful Rwase, said "I am grateful to His Excellency for choosing me to serve under him. The job of RDC is not heaven but when the holder knows what to do, it matters a lot."
He added that, he will ensure that Mzee's wealth creation programmes are followed through to salvage the ordinary MunyaRwampara.
"I think I know what to do" he added. Atuhairwe will be replacing Emmy Kateera Turyabagye, who has be transferred to Masindi.