Yumbe rebels want amnesty
By Andrew Cohen Amvesi
ARUA. Over 1,000 fighters affiliated to Brig. Gen. Rajabu Ayile Ayiga are seeking amnesty from the government of Uganda.
The rebels under the West Nile Pro-Reform Agenda (WEPRA) are also demanding for their benefits and release of their leader, Brig. Gen. Ayiga whom they claim is in the hands of the security forces in Kampala.
Speaking on behalf of the rebels during a press conference in Arua city, Col. Daniel Andruga Batta, the mediator of the group and the government said upon his release, Brig. Gen. Ayiga will help in mobilizing his troops in Uganda, South Sudan and DR Congo to come back home.
"I need the government to come and resettle these people because at first, they were decentralized aside by the late Gen. Bamuze. Now we need peace, the government should come openly to declare whether Brig. Gen. Ayiga is under arrest or not. Actually as a mediator, I'm still doubting about it and that is why I came to the Amnesty Commission and wrote those letters to Amnesty," Andruga said.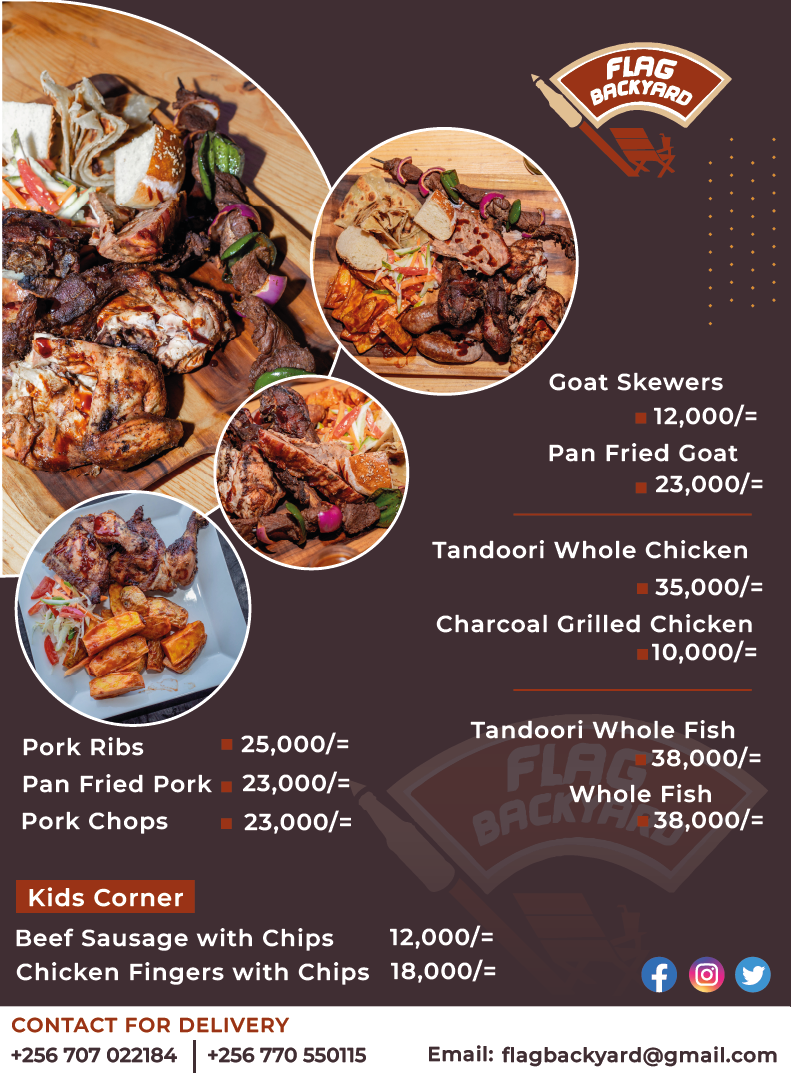 "Other troops are in South Sudan, other troops are in DR Congo, others are in Uganda even some which have not given their arms are still there. They told me as their mediator that they can't give their guns unless there is a corridor for them for Amnesty to organize so that they come there to handover what they have. So, let the government come to negotiate with Brig. Gen. Ayiga with his troops and their packages be given," Andruga stated.
He said if there is no corridor, there will be no peace because those in South Sudan and DR Congo will continue fighting even in the absence of their commander.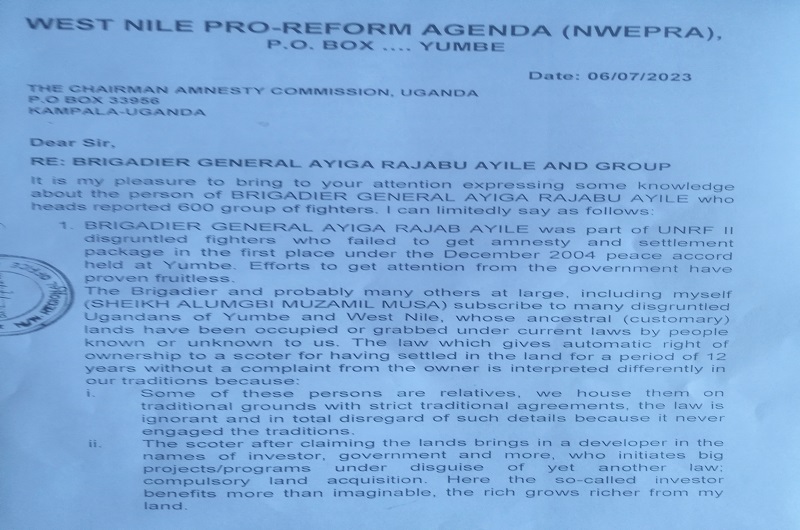 "The security apparatus in Yumbe claim these are robbers, no! These guys are not robbers, these are rebels who have been in South Sudan, they have come even as I'm talking right now, others are in Kibili. These guys are there openly, it is just a misunderstanding. They told me openly as their mediator that they can not come in the hands of CMI, they need clearance from Amnesty, that is why they have still remained behind," Andruga explained.
While reading the petition dated July 6, 2023 which was presented to the Amnesty Commission, Abdurahim Juruga noted that Brig. Gen. Ayiga heads a total of 600 groups of fighters.
He said Brig. Gen. Ayiga was part of UNRFII disgruntled fighters who failed to get an amnesty and settlement package in the first place under the December 2004 peace accord held in Yumbe.
"Efforts to get attention from the government have proven fruitless. The Brigadier and probably many others at large, including Sheik Muzamil Musa Alumgbi subscribe to many disgruntled Ugandans of Yumbe and West Nile whose ancestral land has been occupied or grabbed under current laws by people known or unknown to us," Juruga said.
He observed that Brig. Gen. Ayiga returned to Uganda voluntarily with hopes that he and his fighters shall be granted amnesty as the President once promised.
"He (Ayiga) voluntarily surrendered in the hands of the security who kept him under custody in Yumbe before being transported to Kampala reportedly on claims that the President wanted to meet him in person. Since then, the Brigadier is in the custody of the CMI," Juruga said.
He further alleged that CMI transferred 121 of Ayiga's fighters to Nakasongola Barracks under unclear circumstances where their fate, lives and health are not guaranteed.
Meanwhile Juruga observed that 424 of the 600 fighters were irregularly dispersed away (to go home) and that the whereabouts of about 8 others has remained unknown.
However, when contacted on the phone, Maj. Telesphor Mwirima Nduhira Turwamumany, the UPDF 4th Division Spokesperson said he is not aware of Brig. Gen. Ayiga's arrest and the alleged transfer of his fighters to Nakasongola Barracks by the CMI.
But on the rebels still at large who are seeking for amnesty, Turwamumany simply said if they are there, they will be handled strategically.