Women challenged to focus on meaningful goals that leads to prosperity
By Evans Najuna 
Ntungamo – Women in Ntungamo district and the country as a whole have been challenged to focus on meaningful goals that make them successful in life.
The call was made on Tuesday by the First lady Janet Kataha Museveni who doubles as the Minister of Education and sports. She was officiating at the belated women's day celebrations in Ntungamo district.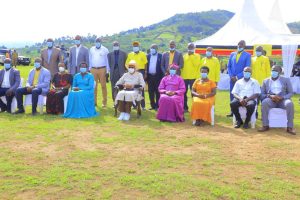 The event took place at Rwashamire, Kajara County headquarters in Ntungamo district. The First Lady used the opportunity to encourage women to set meaningful goals for the more upcoming years.
"By focusing on our achievements and progress, we can make this annual event even more significant and impactful for women, families, and our entire nation," she stated.
She also urged the attendees to come together and work on plans for the year, ensuring that the next women's day will be filled with success stories. She reminded them on the true value of a woman's contribution to their families and communities.
The First Lady further challenged the women on income-generating projects to support their households, and to promote a culture of saving and investing in their communities. "By working together and utilizing the resources our beautiful country offers, we can create a brighter future for everyone," she added.
Mrs. Museveni also highlighted the importance of taking advantage of government programs designed for economic empowerment, so they can help one another to succeed and prosper.
Conclusively, she emphasized the need to protect the well-being of their children, learners and communities by tackling the LGBTQ agenda with determination and vigilance.
"By monitoring our children's exposure to various media sources and setting aside politics, we can work collectively towards improving lives, contributing to the growth of household incomes, and fostering a better future for all" she said.
In her address, Ntungamo Woman Member of Parliament, Baata Kamateneti said the district has received support from the government in form of schools, and health facilities, which continues to benefit the residents.
MP Kamateneti, however expressed concern over the failure of the residents to put to good use government programmes and not to fail them. She rallied them on interventions like; the Youth Livelihood programme, Emyooga, NAADS, and PDM.
She also said that some groups of people have started benefitting while others are sitting back and only complaining.
The event was also attended by other political leaders, and religious leaders including the Bishop of South Ankole Diocese Rt. Rev. Nathan Ahimbisibwe among others.