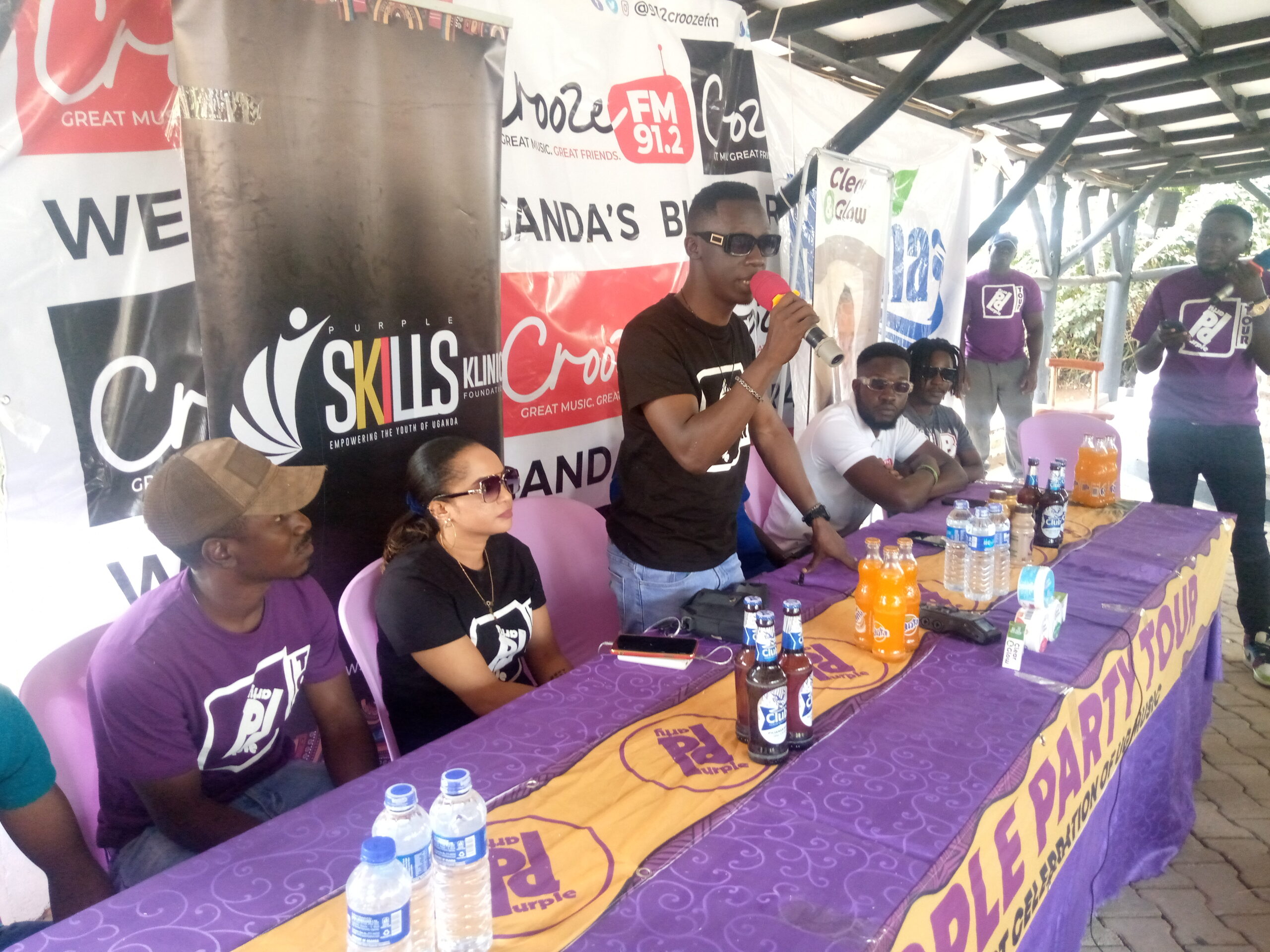 Stop Blaming Government For Unemployment -TV Personality Lwanga
By Amos Tayebwa
Mbarara – Youth have been urged to stop blaming the Government of Uganda under the leadership of President Yoweri  Museven that there are no Jobs in the Country, that they should go for skills to employ themselves.
One of the most Uganda's TV Personalities,   Douglas Lwanga,  the CEO Purple Party Events echoed this during a press conference that was held at Mbarara University Inn on the launch of  western Purple arty event that is slated for 3rd September 2022.
 During the press conference, Lwanga said that they have been doing purple party events for ten years as they interact with young people, eventually they realized that it's not enough to bring such a big party for one day and they go back home,  yet they have so much power as an event to change the mindset of the youth who follow this event. According to Douglas, he says that as an event they decided to sit down and come up with something that is going to impact people besides Music. They established something kind of an organization aiming at skilling Youths termed as 'Empowering Youth of Uganda'.
"There is a big problem in our country of unemployment,  most of the Youths have gone to school, some are holding Degrees, Diplomas and so many things and at the end of their courses they cannot get jobs, but the fact is in this era and the generation your papers do not matter whatever course you did, people don't want to know, what they ask you is what can you do? Once you have the skill on something you qualify for a job and that's what matters", said  Lwanga.
Uganda is one of the countries in Africa that has big number of unemployed youths. Most of the youth have tendencies of undermining jobs according to what they have studied.
Lwanga added that actually it's good to do multiple skills if there is desire for progress. " I want to leave it to you that my fellow journalists,   celebrities, what can you do? Are you just a person who comes in and says me I have a following, me  I have big name in Mbarara or Kampala, what can you do?"
"Personally as Douglas  you know me as  a TV presenter but beyond that I do  graphics, I do adverts, I can operate very many equipments including cameras, I do video editing, I am an event organizer, I am a digital influencer, I am so many things. So even if I wake up one day and am unable to go on TV I still survive, but can you survive? And I want you to stop blaming the government that, oh there are no jobs, that President Museveni has overstayed in power, the issue is that you you have to think about yourself, go and learn a skill whatever it is, it could be playing music instruments, it could be blogging using your phone, it could be operating cameras, it could be so many things, find something else that you can do and that's the message we are trying to push", said Lwanga.
He added that the initiative of skilling the Ugandan youth  started in Kampala like the purple party but this is going to spread and will  have branches in western Uganda, eastern, northern, and all that to make sure that the youth are empowered with skills.
Mr. Lwanga also  revealed that Purple party is an event that was initiated with the aim of promoting Uganda's music talents. It has been in existence for about ten years.
 According to the Organizers, Purple party is warming up to  come in Mbarara early September at Mbarara University Inn, that the revelers must  expect entertainments from the big names of Ugandan music coming through, these include Madox Ssematimba, Pallaso, Lydia Jazmine, Nina Rose, Spice Diana, Fefe Bussi, Ray G, T Paul, Megarton, Rasta Chazi and comedians like Mc Mariachi, Madrat and Chiko, Kachina and not forgetting best DJs like DJ Rodger, DJ Mercy, DJ Alberto, MC Kacheche, MC Kats to mention but a few.