Sigh of relief as two KCCA school of the deaf gets hybrid solar power system
By Evans Najuna 
Kampala – The Department of Education and Sports at Kampala Capital Authority Authority (KCCA) in the sector that deals with children with disabilities and impairments will for now stop the outcry of darkness, high electricity bills charges in the two government-aided schools that educate deaf learners.
On Wednesday, two special needs schools; Mulago school of the deaf, and Uganda school of the deaf Ntinda, received a donation of hybrid solar power system that will lessen their worries while imparting education to the deaf pupils in Kampala.
The system has been financed by a donation from the European Union and Green Energy supported by partners of Barnoulli engineering services (BES), PIFUD finance 4GKM and Uganda Government through KCCA.
The two fully functioning solar power systems were commissioned on Wednesday by KCCA executive director Dorothy Kisaka together with some officials from the Authority.
Speaking at Ntinda School of Deaf located in Nakawa division after commissioning the equipment, Kisaka said that KCCA is championing the smart city agenda with emphasis on three things; leveraging the use of; TIP – Technology in delivering services, improving infrastructure and promoting people wellbeing.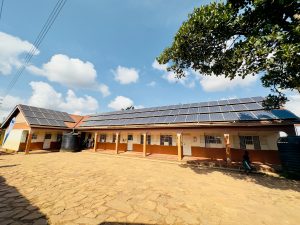 She added that the project is touching the core campaign, adding that one of key deliverables of PIFUD program was the installation of the pilot hybrid solar system in the two facilities.
She thanked the European Union not only for the program but for consistently giving to Kampala and Uganda in general, appreciating the work of European Union on behalf of government.
She explained that, Kampala and the whole country has the challenge of power blackouts and it's high bill costs, adding that the idea of installing solar power as a friendly and reliable power to mitigate the challenge is a welcome move.
The European Union representative in Uganda and team leader for green economy Lennart Deridder explained that the donation is not only giving power to Kampala but also giving tools to the young people for a better future.
According to Deridder, this is one of the major program for local financing of Greater Kampala, and Kampala metropolitan area, adding that PIFUD program is part of the long standing cooperation between European Union and Greater Kampala metropolitan area.
He highlighted that in Uganda access to green energy is among the key priority support especially in education and health sectors, saying that without energy there is no development.
He conclusively said that the EU is committed to supporting Uganda's sustainable development strategy and that such projects are their priorities.
The executive director was accompanied by Nakawa Mayor, Paul Mugambe, KCCA's councilor Olive Namazzi who doubles as the executive secretary in charge of education and public health.
The function was also attended by KCCA project coordinator Edison Masereka, Emmanuel Bampiga on behalf of the Board chairman and executive committee and Ntinda school of the deaf Head teacher Juliet Mary Tumuhairwe.