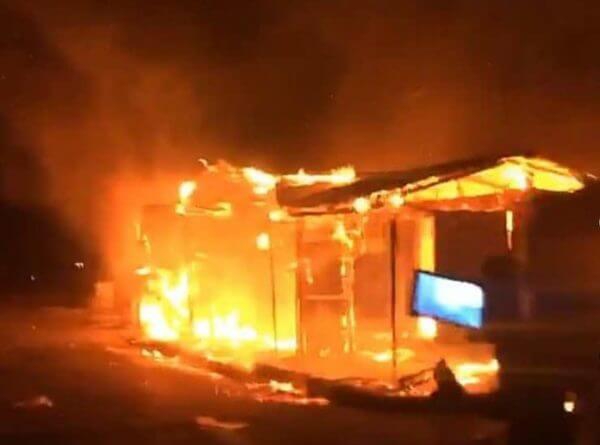 Property Worth Millions Lost in Rubanda Petroleum Fire
By Libino Byamukama
WallnetNews/RUBANDA – Fire on Tuesday afternoon gutted a house in Mubuhinga trading Center, Kibuzigye Parish Hamuhambo Town council in Rubanda District and several properties valued at about Ugx 16m brazed. The business Man whose Business was destroyed by fire has been identified as Byonanebye Livingston a son to one Turyatemba.
According to Eye witnesses, the incident happened at around 2pm and properties including the sollar panel, drinks, Tv set, and the entire building worth 16million were all destroyed and nothing was rescued. They added that Byonanebye left his newly Married Wife whose Names could not be Established at the business and went for the burial in Rwakagyema village Mungara parish the Neighboring village
They further revealed that in the same business, Byonanebye has been selling petroleum in plastic bottles and it is allerged that, while at home the wife started parking petroleum near the burning charcoal stove before fire gutted the whole business.
Speaking to our reporter on a phone, The chairperson of Habuhinga Trading center Mr Turyatemba, Emmanuel said that fire burt the wife's legs. Turyatemba, called upon the public not to sell petroleum in the same house with the business to avoid such risks.
By the time our reporter filed this story, police had not yet reached at the scene and no help had been made to the stranded Family. The wife is currently Nursing Injuries at Rugarama Hospital in kabale Municipality.