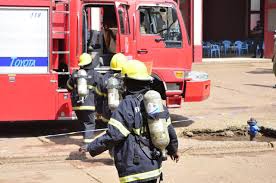 Police puts out Kayunga-Mukono junction fire outbreak
By Our Reporter 
Mukono – The department of Uganda Police fire bridge with fire prevention and rescue services on Monday morning responded and put out a fire outbreak in Mukono Municipality.
The incident allegedly occurred at approximately 5am in the morning on a storied building located along Kayunga road roundabout in Mukono municipality.
According to ASP. Luke Owoyesigyire, the Kampala Metropolitan Police spokesperson combined teams worked tirelessly to extinguish the fire. He confirmed that later, the fire was managed with no deaths or injuries reported.
He urged the public to remain calm and always cooperate with rescue teams, apparently the work is going on to bring the situation under control.
Owoyesigyire further added that police will provide more details as soon as investigations to the cause of fire outbreak concludes. However, the situation has been put under control.
"We would like to remind the public to prioritize their safety and to take all necessary precautions to prevent fire outbreaks," Owoyesigyire said. He assured the public, and Mukono residents that as Uganda police, they are doing everything possible to ensure the safety of everyone affected by the unfortunate incident.