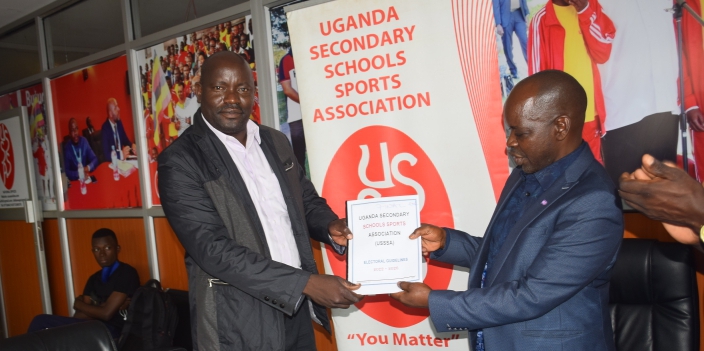 Opio Ekedeu To Oversee USSSA Polls, Releases Electoral RoadMap
By Emmanuel Sekago
AFTER presiding over the electoral process that restored sanity in USSSA, Mr. Opio Joseph Ekedeu has been appointed returning officer for the Uganda Secondary Schools Sports Association general elections on July 30th.
As the constitution directs them to hold elections every after fours, the Uganda Secondary Schools Sports Association [USSSA] on, June 21st, 2022 released the electoral guidelines.
At the press briefing at their head office at GNS Plaza, Old Kampala, the current USSSA president, Patrick Okanya officially announced Opio Joseph Ekedeu as the returning officer for the 2022 elections and immediately after getting the office he released the electoral guidelines for the elections.
"USSSA last held elections in 2018, COVID affected us but as a democratic institute, we decided that we held these elections when they are due," Said Okanya.
He handed over instruments of power, the USSSA Constitution and Guidelines to returning officer who the delegates accepted to come back.
Okanya later thanked the USSSA for the confidence they had in him especially by appoint him again as their returning officer. He previously held this office and it all went on well and he again pledged to handle these elections well, through working like the USSSA officials and the structures at the district level.
Therefore, he used the same opportunity to officially release the USSSA electoral guidelines for 2022. According to the new constitution that was amended at the assembly held at Old Kampala secondary school main hall, some National electoral positions were scrapped off like that of general secretary, treasurer. However at district level, the positions remained the same.
"For the 2022 elections, at national level, we shall have the following elective positions; President, 1st Vice president, 2nd Vice president, 3rd vice president, Secretary for women and the 14 representatives from different regions and for this purpose, we are having 19 elective positions. " Noted the returning officer.
Meanwhile, The USSSA elections at district level are slated for July 9th before the Zonal on July 16th and national elections on July 30th 2022.