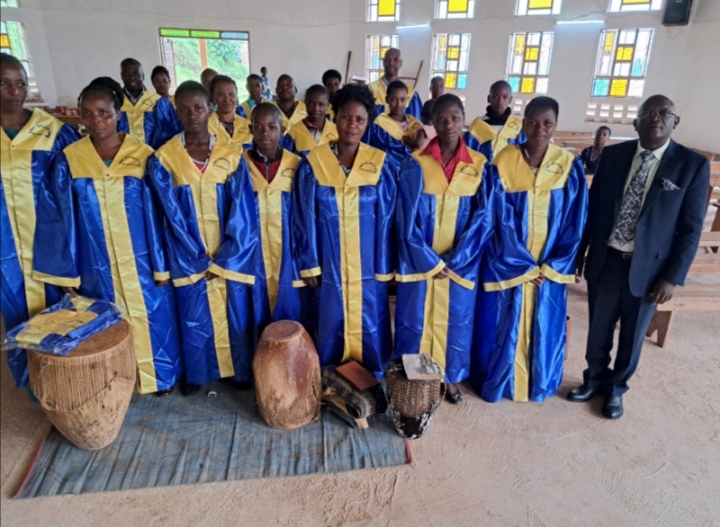 Ndorwa West MP aspirant honours pledge of Church choir uniforms
By Byamukama Libino
Kabale – Ndorwa West parliamentary hopeful Dr. Hilary Mbona Bakamwesiga on Easter Sunday honoured his pledge of 25 uniforms to the choir members of Mary Mother of God Catholic Church.
On 1st  January 2023 while at the above Catholic Church, Dr. Bakamwesiga who is the a lecturer at Makerere University pledged to buy for the church choir uniforms after realizing that the church choir found in Katuna Town Counci had lacked them.
Speaking aftter Mass,  Rev. Fr. Deusdedit Musingunzi applauded Dr. Bakamwesiga for the temendious support towards the Church choir.
Fr. Musinguzi added that it had become difficult for one to easily identify the Church choir from other Christians during Mass.
"I always like smart people, this is very good and nice," he added .
Dr. Bakamwesiga in his message challenged the Christians to put God first in whatever they are do for a successful life.
He further implored them to give him more political support and cooperation as he continues to lobby for more things in Ndorwa West.
On the same day, he travelled to Rushorooza Hospital in the evening in southern division where he supported the patients at the hospital with items such as sugar and bars of soap.
The patients at the hospital lauded the Dr. Bakamwesiga for the support rendered to them on Easter Sunday.
They added that the situation was getting out of hand as they are unable to buy sugar and soap due to the current economic situation in the country.