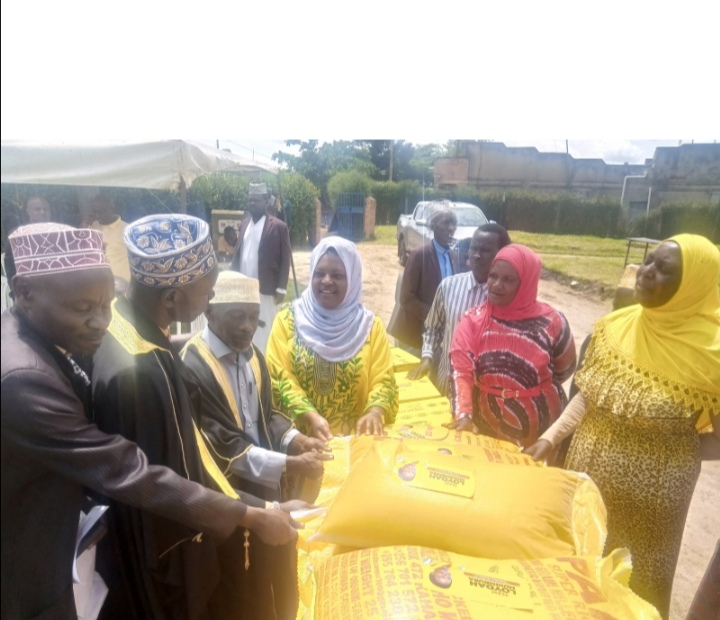 Muslims ask government ahead of Eid to favour them concerning service delivery
By Amos Kagunulu
Mbarara – Moslems from Mbarara district led by the district Kadhir Shekh Abdallah Mukwaya have asked the leaders and the government of Uganda to also consider and serve Muslim community equally like other religious sects.
While addressing a group of Muslim leaders at Bwizibwera Mosque on Monday, Sheikh Mukwaya said that the Muslim community are lacking  a lot in terms of service delivery from government compared to other believers.
Adding that government has not put enough in education and health institutions under Muslim foundation.
He said these while receiving some food items including bags of rice and cooking oil meant for fasting  for Muslims in Mbarara towards celebration of Eid which will happen on Saturday 22nd April.
These were donated by Loyda Twinomujuni Muhimbura, the district female councilor representing Rubaya sub-county in Mbarara district douncil.
Mukwaya urged Muslims to respect themselves and the leaders who think about them. He praised Twinomujuni for the generosity and the desire to work and serve for the Muslim community and other religions as well.
He said that Twinomujuni is the only leader in Mbarara  that he heard about before who has cooperated,  considered and worked for the Muslim community in the areas she leads.
"I have heard before about this Lady Loyda Muhimbura for the tremendous job that she's doing at the ground and I have met her for the first time. I really want to thank you for thinking about us as Muslims. Most of the leaders have neglected us, they don't respect us. We thank God that for you as Loyda and a mere councilor you have decided to work with us," Sheikh Mukwaya said.
"Some of our leaders think that we are not focused.  But I want to inform them that the today's Islam is no longer like of the old days, today we are trying to be focused, we have objectives and vision, we intend to do and we have done some change. If we decide to support someone we can do it.
There are some leaders who usually take us Muslims for granted, but I must tell you that we are no longer in that model. We have institutions and we are big we can make change if we want. We really have some people that undermine us, you can imagine someone is a woman MP of Mbarara district,  but I have never seen her knocking on my office door for the seven years I have been a leader of Muslims in Mbarara.
Am sorry to say this, time will come and as Muslims we shall only consider people who respect and value us as the Muslim community. Loyda is just a mere Councilor but she has done what an MP for this area has not even done," he added.
Mukwaya has also appealed to the government of Uganda to also fill gaps where the Muslim community face challenges especially in service delivery. He asked the government to work together with Muslims because they are also partners in the nation, adding that government should come up and give more support to develop their institutions.
According to Sheikh Ahmed Sulaiman Mbazira, county Sheikh Kashari said that Muslim community are very peaceful people despite facing challenges in service delivery. That there are 22 mosques in Kashaari but there are only three government-aided primary schools without any government-aided secondary school.
He added that there only two Health Center IIs, requesting that government should think about them as Muslims to tackle such challenges.
However, Councilor Twinomujuni pledged to take responsibility and raise her voice by lobbying from relevant authorities so that matters of poor education, and health status can be handled.
"Me am ready to work for all categories of people regardless of religious or political affiliations. In fact if am blessed when time comes and I obtain a bigger level or position not councillorship where I have managed to do a lot of services. I will be able to tackle all these challenges that are faced in some areas of Mbarara. I have done it in Rubaya and I continue to do it in the entire district," Twinomujuni said.
She donated about 30 bags of rice of 25kgs, and 20 boxes of cooking oil which were handed over to the Mbarara district Kadhi at Bwizibwera Mosque in Kashaari South.
According to Twinomujuni, the food items are targeting vulnerable people who may not afford something to eat while celebrating their Eid. They will be distributed to all sub-counties of Mbarara district.