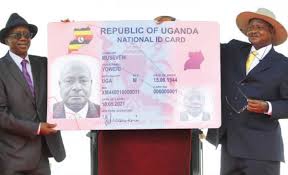 Money lenders risk falling in financial ditch as police rules out national IDs as collateral
By WN Admin
Kampala – The Uganda police force and other sister security agencies, are concerned against the increased misuse of national identity cards as collateral, especially in Buwenge district, Busoga sub-region, Dokolo and Amolatar districts in Lango sub-region, and greater Kampala area.
In a statement released on Monday, the police noted with concern as money lenders continue to confiscate national IDs as financial collateral. "As you are all aware, national IDs have no economic or monetary value and are supposed to be used exclusively for identification purposes," the statement reads in part.
They warned against any act of confiscation, removing, taking or handing over a national ID, as collateral is illegal, adding that, it also denies the owner, the ability to use their national ID for identification while travelling or when conducting other transactions.
The police further informed all citizens whose IDs were confiscated to report to the nearest police for assistance. "We would like to call upon anyone whose national ID was used as collateral or confiscated to report to the nearest police for further assistance," statement added.
Under the Registration of Persons Act, Section 77 (b), it is an offence if a person without authority deprives or dispossesses a holder of his or her national identification card or alien's identification card; under Sec. 77 (e) unlawfully keeps or takes possession of a national identification card or alien's identification card that belongs to another person; and section 77 (f), is in possession of more than one national identification card or aliens' identification card that is intended to show the person's identity, commits an offence and is liable on conviction to a fine not exceeding forty-eight (48) currency points or imprisonment not exceeding three years or both.
They further implored all money lenders to converse themselves with regulatory do's and don'ts by the Uganda Microfinance Regulatory Authority.
In their guidelines, a money lender shall not take a national ID, passport, warrant card, or other documents establishing the identity or nationality of the holder, bank savings, ATM cards and security codes for the ATM cards, as collateral for money borrowed.