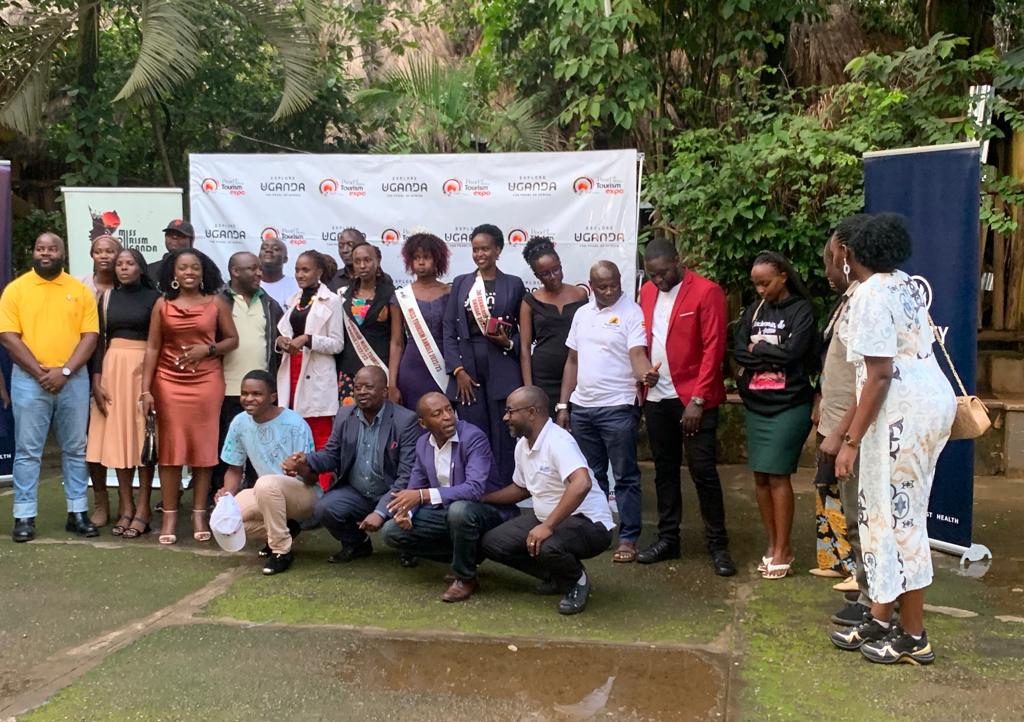 Miss tourism Ankole cluster rolls out 2023/24 beauty contest
By Evans Najuna
Kampala – The search for Miss tourism 2023-2023 western Uganda cluster has commenced in a new style with the national theme; 'Greening Uganda.'
This was revealed by Miss tourism Ankole cluster head Enock Rutaza together with Ankole tourism stakeholders during a media launch dubbed 'Kampala chapter' held on Sunday 30th May at the National theatre in Kampala.
Speaking at the event, Rutaza said that, this year's Ankole pageant contests will be of a new style as they are to consider beauty contestants studying, living and working in Kampala unlike previously editions.
The reason under this is to give opportunities to girls who are studying, because most of the contests are in institutions of which most of the participants live within Kampala.
Adding that many Banyankole have migrated, and are now living and working in Kampala, and there is  need to tap into that population and market Ankole tourism destination.
He also added that, most tourism stakeholders and partners are in Kampala. He further noted that there's a challenge whereby Mbarara people tend to challenge them concerning corporate class of Kampala hence bringing the project closer to the people.
Highlighting the roadmap, former Ankole miss tourism queen 2017- 2018, Sharon Bakirira who also doubles as the public relations officer, miss tourism Ankole, said that the Sunday event was mainly for for Kampala launch, adding that on 13th May they will have a second launch for Mbarara chapter and a mega one with a lot of activities in connection with the national theme of 'Greening Uganda.'
While on 15th May, contestants will start submitting their applications to be the face and queen of Miss Tourism Ankole. And this will be followed by the audition of contestants on 27th of May where they will be given two weeks of preparation and get the requirements that will be needed for the boot camp which will happen on Jun 11th.
This event will take place at Razor Motel. The venue was selected because of it's special nature of promoting domestic tourism and with a conductive environment for the queens. Finally, the 17th of June will be grand finale at Adit Mall in Mbarara. She added that this will be one of a kind where gates will open from 4pm till late.
Bakirira also used the same chance to inform the incoming contestants that they should be coming from western Uganda, not married and pregnant and if found during the reign, the beauty crown will be revoked, adding that contestants should have completed A level.
The contestants are not to have any children, and in the age bracket of 22-29, and without tattoos on their bodies.
The event attracted, previous beauty queens including; Queen Bridget Miss Tourism Ankole 2019-2021, Queen Abigail Miss Tourism Ankole 1st runner-up 2022/23, Queen Hannah Clare Miss Tourism Ankole 2022/23, Queen Alice Kyasimiire, Miss Tourism Ankole second runner-up and UWEC ambassador, and reigning Miss Tourism Uganda Queen Aisha Naguddi, and the CEO Miss Tourism Uganda.
They all implored all upcoming queens not to be scared for the contest because it is a dearly and loving experience with good expectations, but above all be respectful and use the opportunity to explore the country especially Ankole culture.
There was also a representative from the Ministry of Tourism Wildlife and Antiquities, James Mboijana who is in-charge of tourism development.
Mboijana appreciated the work done by Ankole tourism stakeholders for boosting the industry at grass root level, and said that the tourism industry is very large, productive and profitable to invest in.
He also thanked Ankole cluster head Rutaaza together with the previous queens for the initiative of promoting Uganda's tourism industry. Mboijana, assured stakeholders of government's progress on policies and programs that aims at making the industry more favourable for everyone.
Among the sponsors and stakeholders who were present included Polly pictures, San Diego Tours and Travels Ltd, Delta TV, KTV, Liberty Insurance, Global coaches as main sponsors.
Francis Mugoga of Tourism Institute of East Africa, Muhimo Tours and Travel, Ankole demonstration zoo western (ADZ), Orugano Mountain Gorilla lodges among others including, National Theatre Food Platz, Uganda Tourism Board and the Minister of Tourism Wildlife and Antiquities.