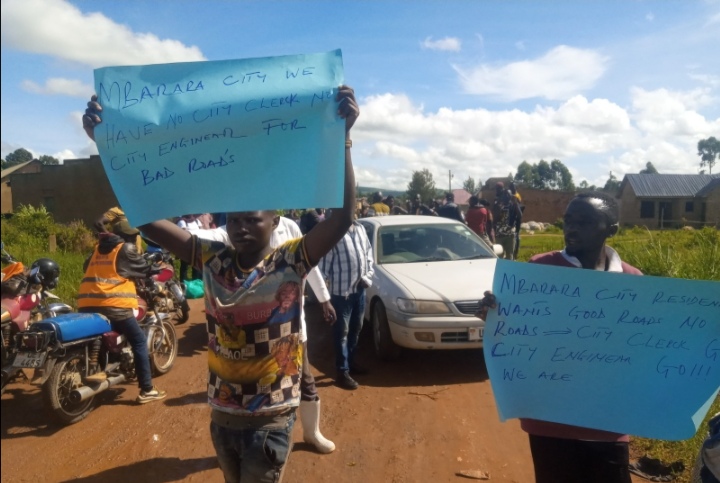 Locals threaten to 'castrate' mayor Kakyebezi over poor state of roads in Mbarara city
By Amos Kakungulu
Mbarara – A section of residents and local leaders from the areas of Koranorya, Rwentondo, Bunusya, Rwemigina, on Thursday mobilized and blocked a 16km road from Koranorya Town to Bishop Stuart University, and beyond after the road was destroyed  by heavy rains.
The residents accuse Mbarara council leadership for negligence about the matter.
Transport, businesses were polarized around the areas of Koranorya and Kenkonkombe garbage dumping site as the main road of Koranorya-Bishop Stuart University (BSU)-Buremba road was close by the angry residents insisting that authorities must come and first put culverts on the spot area on that road that was blocked by flood water.
They demonstrated and blocked all trucks carrying garbage to Kenkombe. Business people carrying goods from and to Karanorya market were stuck during the demonstration. All movements of vehicles carrying goods on that road were restricted.
According to the locals, they have complained over the matter about the road to the office of Mayor Robert Mugabe Kakyebezi and Town Clerk but they remain adamant. They decided to stage a peaceful demonstration so that the officials can respond.
The demonstration was not taken for granted, which forced the city engineer Merina Kekija and the city finance secretary Ronald Taremwa who responded immediately towards the matter and promised to work on the road immediately.
Gumisiriza Kyabwisho, the Mbarara city north mayor accused the office of the City Town Clerk Assey Abirebe and engineer Kekija for having failed to work on their roads. He said that he reported the issue of water blocking the road at Koranorya-BSU road but they had never responded.
He said that Mbarara city engineer has totally failed to respond, adding that most of the roads in his division are in sorry state but the engineer is not bothered. He requested Mayor Kakyebezi to write to the Ministry of Works and Transport to employ a more competent engineer for the city
"We are very aware that the money for road fund came and they are on accounts of the city council. I wonder why don't these people direct their engineer to come and work on our roads so that our people can smoothly operate their businesses. People have abused me as if am responsible for the road when actually it's for the city council.
The roads which are in my docket are all being worked on. This is the road that requires emergency even if money is not there, as city council you must be forced to look for resources to ensure that culverts are put where they are supposed to be or work on the whole road," Kyabwisho said.
"Actually I have agreed with my residents that if this matter is not sorted instantly we shall not allow any garbage truck to enter Kenkombe. Let them take back the garbage to town. I want the mayor to take this as a serious matter that concerns the residents. This is the same council that has failed to pay our remittances as division councilors. We have failed to  deliver services because of Kakyebezi's council which has denied to pay us our money," Kyabwisho added.
A one Innocent a resident and  boda boda rider said that Kakyebezi and his council have failed the office from the time Mbarara was elevated to a city status. That apart from the roads worked by USMID funds, all the roads under the docket of Mbarara city council are all in a sorry state.
"We have suffered from this road which was destroyed and blocked by water. No authority has come to help us, we voted Mr. Kakyebezi and the area MP Rukaari but they have not helped us. We are mobilising to storm the office of the city mayor so that he explains to us why he has not bothered about the challenges we raise to him occasionally. We have patiently waited, complained but now enough is enough," Innocent said.
Robert Atwine, a division councilor representing Rwemigina Ward said that most of the roads including this of Koranorya-BSU are impassable, and that as lower local leaders of the area, they have reported the matter to office of the city Mayor and the Town Clerk five days ago but all was trashed by the same officials.
"We are tired of Mbarara city council and its leaders especially the mayor. We have complained of garbage being dumped in the middle of our roads but they don't care. People are on our neck over such challenges but the Mayor and the City Clerk are just there in their offices seated. We pay taxes, but the taxes we have we have not benefited  as far as service delivery is concerned," councilor Atwine said.
"We are  preparing to storm the office of the Mayor and his Town Clerk to show our grievances. If they fail to act, we shall try legal means but we want our people to get services," he added.
Taremwa, the Mbarara city council finance secretary explained that the council has not failed but it has received inadequate road funds from the central government. He said that Mbarara city, a few months ago received a lot of rain that destroyed most of the roads.
He added that as city council, in the 4th quarter they have plans to work on the Koranorya-BSU-Buremba road. But the spot on the road requires emergency work and it can't wait any longer. He also said that other major works on the road may commence next week.
However, Eng. Kekija said that Mbarara city does not have plans to work on the road in the current financial year.
"For the last financial year, and the current one, we do not have Koranorya-BSU-Buremba road in our plan, but as an emergency we are going to work on it. The problem we have as council, we have many roads and we don't have budget to work on all of them.
Like this financial year, we have a budget of Shs1.2b strictly for road maintenance. The source for this road fund is from central government, and partly local revenue. Central government gives us little funds depending on our road network. We therefore ask the central government to increase our funding up to like Shs4b" Kekija said.