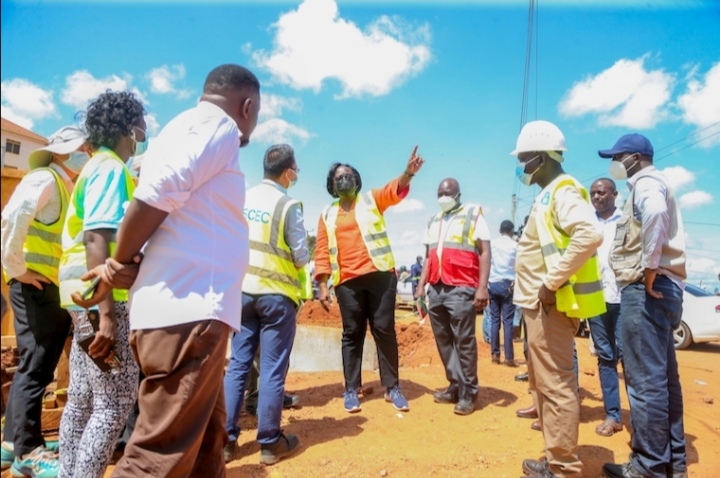 KCCA road rehabilitation frustrated by low budget allocation – Kisaka
By Evans Najuna
Kampala – A lot has been been said both in mainstream media, social media and even on the streets about the poor state of roads in the capital city of Kampala.
However on the contrary, according to the KCCA executive director Dorothy Kisaka, people criticising the Authority for not doing roads should know that roads are made with money. She made these statement during a phone interview with Wallnetnews.
Kisaka stressed that without money, KCCA can't rehabilitate roads. She pointed out that they only received 30% of 2023 budget for roads.
"How do you do roads without money?  "Should KCCA call for a 'gwanga mujje' (community work) so that people come out with hoes and dig the roads? Without money, the roads will not be done," Kisaka stated.
She further states that KCCA can not perform miracles,  adding that if the city continues to be ignored during the budgeting process, the city will deteriorate.
She also asserts that that if the city budget continues to be cut, the onus is on everyone to suffer with bad roads.
Sources intimate to us that in the next financial year, KCCA will be allocated peanuts to be used for all development efforts in the city.
This according to Kisaka will not facilitate the 2,100km of roads, garbage collections, all infrastructure maintenance, and drainages, wondering whether KCCA is being set up to fail.
She further said that there are some officials who are saboteurs of the capital city, asking them who will benefit when the city is rotting.
She however put it to them that they will in turn come to blame the administrators.
"Your anger is misdirected, the plans of KCCA are clear," Kisaka noted, adding that Kampala can be a smart city but without a budget support  it remains a pipe dream.
Kisaka also highlighted how KCCA has finalised 35km under KIIDP2, looking at the difference it has made to the city giving examples like; the Ntinda Stretcher roas, Lukuli road, Acacia road, and all the community roads saying that the momentum needs to be maintained but not frustrated.
Kisaka conclusively said that the smart city agenda will only succeed when it is supported by a smart budget.
She pointed out that the people of Uganda deserve it, adding that: "Our capital city contributes more than 60% GDP, lets support it to create even more."
This comes at a time when KCCA is doing an overhaul project in the city starting with the Kampala City Roads Rehabilitation Project (KCRRP) that entails the improvement of 100km of roads, 123km of non-motorised traffic facilities, and provision of street lighting.