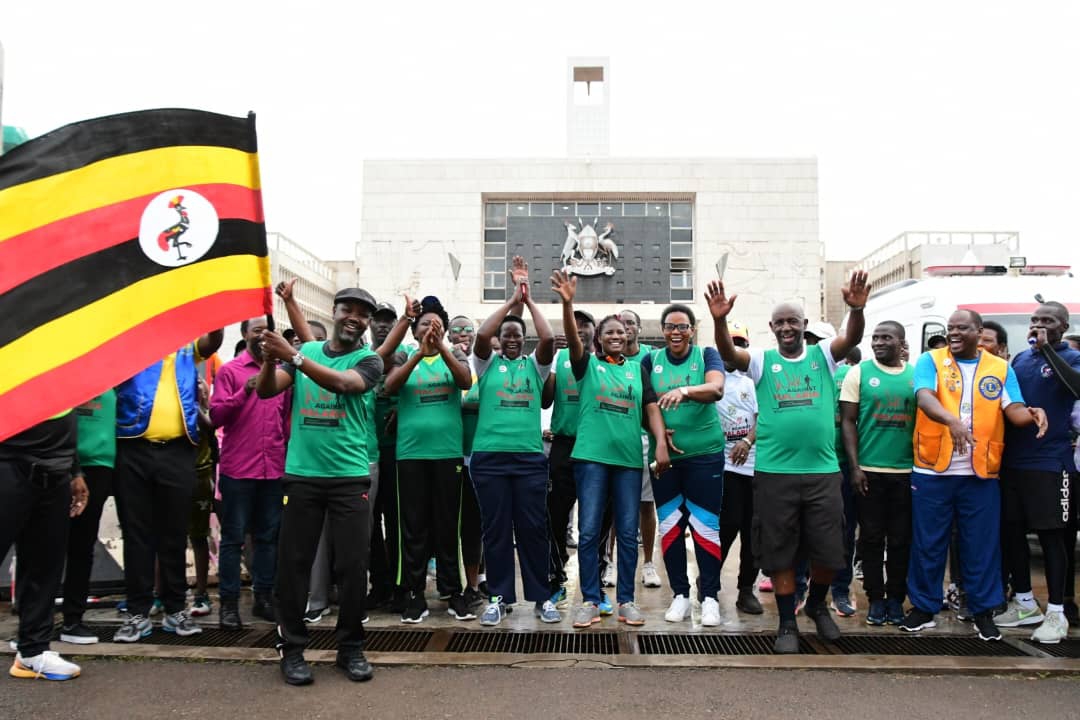 It's not all about money, plant mosquito repellents, clear bushes at home to avoid Malaria – Tayebwa to Ugandans
By Evans Najuna
Kampala – The Deputy Speaker of Parliament Thomas Tayebwa has asked Ugandans to prevent mosquitoes with plant repellents and clearing bushes around their homes.
Speaking after taking a lead role in the Parliament walk against malaria on Sunday morning, Tayebwa said it doesn't have to be only about money but mobilisation of communities and sensitization of the people can play an equally important role in the fight against malaria which kills 52 Ugandans daily and accounts to economic loss of Shs2.4t per year.
"It doesn't have to be only about money. It's also about mobilisation of the communities. We are going to task ourselves as leaders to go back to our communities and sensitize them so that they can get tested, clear bushes around their homes and use plants which are mosquito repellent and use the nets for the purpose they are meant to serve," the deputy Speaker said.
He tasked the Ministry of Health to promote planting of greenery that repels mosquitoes but also intensifies community mobilisation.
"Most of the time we have focused on the distribution of nets but if you give nets without proper sensitisation of the people, that's how they end up using them for fishing, making 'Malwa,' (local beer) and all that. It is very painful and our focus on only distribution of nets especially in rural areas won't help," he said.
Uganda has one of the highest global burden of malaria cases, with over 90% of the population at risk, malaria remains Uganda's leading cause of death, especially in children.
The disease causes immense detrimental health effects and is responsible for 30 to 50% of outpatient visits and 15 to 20% of hospital admissions.
The average economic loss in Uganda due to malaria annually is over USD500m. In 2021, the World Health Organisation reported that there were an estimated 13 million malaria cases and over 19,600 estimated deaths in the country.
"We need to look at malaria from an economic point of view. How much are we losing as a country, so that when one is calculating that we don't have money, he also knows that if this money is invested, it would prevent a haemorrhage of other funds, an effect on the economy, and protect life. In many countries, even if it means spending a billion dollars, to save one person, it's done. The walk has happened at every good time when we're budgeting. Let us get money for spraying, creating awareness, treating our people and testing," he said.
As legislators, he added: "It's our duty to ensure that indeed the right measures are put in place as far as fighting malaria in the country is concerned. We are all in this together so we need to take action before it's too late."
The Parliament walk against malaria is being led by the Uganda Parliamentary Forum on Malaria as part of the World malaria day on 25 April 2023.
Geoffrey Mutiwa, the Treasurer for Uganda Parliamentary Forum on malaria (UPFM) and MP Bunyole West said that many Ugandans are unaware that malaria is one of the major killer diseases in the country, and reiterated the urgency to enlighten Ugandans on eliminating the disease.
"As stakeholders, we need to work together and ensure that we educate the population about the causes of malaria. This will show them that it is a major problem that should be fought against," Mutiwa said.
"Political engagement is so important to combating malaria and as Parliamentarians we can use our influence and platforms to support initiatives and ultimately help make key decisions regarding policies and budget allocations," Mutiwa said, commending Members of Parliament under their umbrella body UPFM for maintaining the malaria debate high on the parliamentary agenda.
"Let us amplify voices by advocating for more resources for malaria control and elimination in order to bridge the funding gap. Investment in the malaria fight is one of the best buys in national health. The tools are cost effective and the return on investment is high. Ending malaria transmission will increase the quality of life of millions of people particularly women and children and free up resources that are currently being used to fight the disease," he concluded.