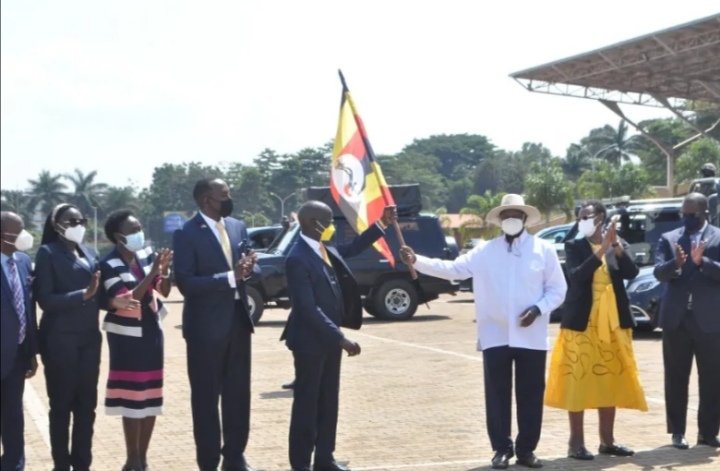 How NCS spent billions in Commonwealth & Islamic solidarity games inflated accountability
By Emmanuel Sekago
Kampala – There will always be questions whenever National Council of Sports (NCS) submits accountability to government on money spent on international competitions.
NCS that, keeps telling sports federations and associations to account for monies spent is the same that has several times failed to account government monies and when they do so, there are very many question marks in it.
You very well recall that Wallnetnews broke the story of cash bonanza on the Commonwealth games held in Birmingham and the 5th Islamic solidarity games held in Konya, Turkey in 2022.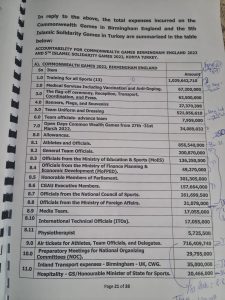 In our hands again is the dirt in the accountability that was submitted. According to the documents seen by this publication, showing total expenses incurred in the Commonwealth games in Birmingham and 5th Islamic solidarity games in Konya, Turkey the actual amount spent on the Commonwealth games Shs4,833,041,562 not 4,865,000,000 as stated in the report .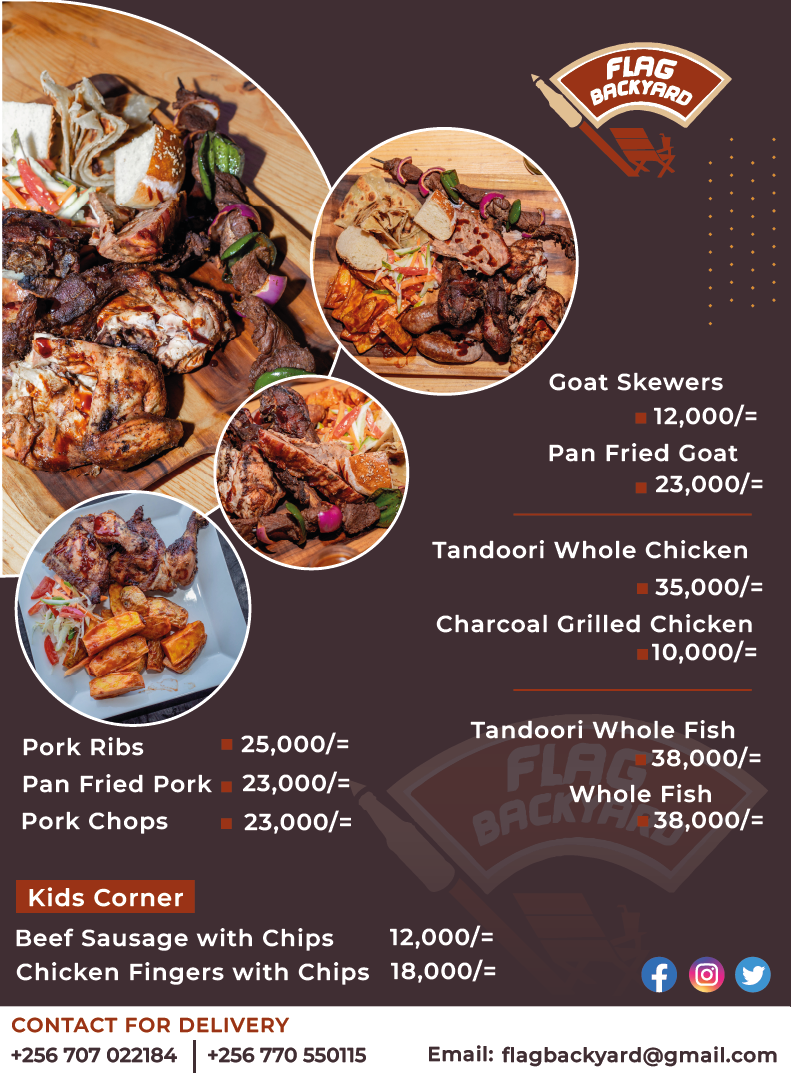 Also actual amount spent on Islamic solidarity games Shs1,231,603,310 not 1,177,447,310 as stated in the report.
What is shocking is that all Ugandans during the flag off ceremony of Uganda team to Birmingham it was live on all televisions at Kololo independence grounds but National Council of Sports shows that they spent Shs67,200,000 on the flag off ceremony, reception, transport, coordination and press, not only that they continue to say that at Birmingham they spent Shs17,055,000 on media yet there were only two media attache, and all were catered for by government of Uganda so what did the said amount of money do?
Looking at the inland transport expenses in Birmingham, they show that they spent Shs35,000,000 yet all athletes were in Commonwealth games villages, and it was catered for by the hosting nation.
Hospitality of National Council of Sports General secretary and Minister of State for Sports spent Shs20,466,000 yet they already had their per diems, all the Members of Parliament Ugandans saw in Birmingham, NCS says they spent Shs301,305,000 on them, officials from NCCS Shs261,699,500, officials from the Ministry of Education and Sports Shs136,250,500, officials from the Ministry of Finance Planning and Economic Development Shs49,270,000, and officials from the Ministry of Foreign Affairs Shs31,078,000.
Almost Shs2b on allowances yet Uganda had only 72 athletes each earning Shs7.5m; unbelievably General Secretary spent Shs8,000,000 airtime for communication expenses.
In the same report NCS claims it spent Shs34,089,032 on open day's Commonwealth games between March 27th to 31st 2022, and also spent Shs67,200,000 on medical services including vaccination and anti-doping yet according to our highly placed sources it was free of charge during the games.
Meanwhile, at the 5th Islamic Solidarity games in Konya, Turkey August 9th to 18th 2022 they show that they spent Shs503,274,200 on air tickets for athletes and technical officials.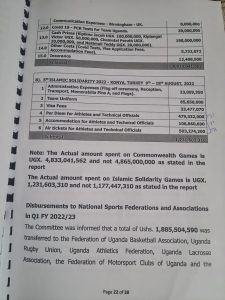 According to our source they were also paid by organizers. Besides they added like USD300, on every ticket. So claims of purchasing 100 tickets that are USD30,000 or more, implies that even the deceased who never traveled had his ticket also paid for.