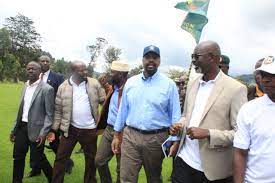 Gen. Muhoozi in Kabale for Rwanda-Uganda border thanksgiving ceremony
By Nathan Bahangwa
Kabale – Senior Presidential advisor on special operations, General Muhoozi Kainerugaba, on Tuesday arrived in Kabale ahead of the "Rukundo Egumeho" border re-opening thanksgiving ceremony scheduled for Wednesday 19th April 2023.
A UPDF chopper with the General touched down at Kabale golf course in Makanga at 2pm amidst ululation and excitement from his supporters and admirers.
He was then led by a convoy through Kabale town to White Horse Inn where he had a brief rest before heading to Lake Bunyonyi.
At Lake Bunyonyi, the General officiated the launch of a speed boat ambulance donated to the Lake Bunyonyi community by health partners through the Ministry of Health.
The Kabale district health officer, Dr. Gilbert Mateeka says that the boat they have received will help in ensuring efficient health service accessibility for the locals around the Lake.
From there, General Kainerugaba moved to Kabale municipal stadium and laid a wreath at the FRONASA monument of the three fallen Front for National Salvation  as a way of honouring them.
The three fallen FRONASA soldiers included, the late James Karambuzi, a resident of Igabiro village in Mwanjari Ward Southern Division, Kabale Municipality, together with David Kagoro Kangire, a resident of Kasoni village, Central Ward, Mparo Town Council Rukiga district, and Joseph Bitwari former Kabale District Resident Commissioner.
The three were on February 10, 1973 executed by firing squad commanded by Lieutenant Colonel Ali Fadhul who was attached to Makenke Military Barracks in Mbarara district on the orders of former president, Idi Amin Dada after being charged with treason.
Gen. Muhoozi also officiated the friendly match Kigezi select football team and Gicumbi football team from Rwanda that was organized by the RCC for Nakawa division in Kampala district, Sheikh Kassim Kamugisha, one the organizers of "Rukundo Egumeho" concert.
 Kigezi select team won the match 4-2 on penalities after drawing 1-1 in normal time.
After the match, Felix Ndayambaje, Mayor of Gicumbi district in Rwanda awarded medals to Kigezi select team whereas Sentaro Emmanuel Byamugisha, and the Mayor of Kabale municipality awarded medals to the Gicumbi district select football team.
The Uganda-Rwanda borders was closed on February 27, 2019. At the time, Rwandan president, Paul Kagame accused Ugandan authorities of spying on Rwanda, abducting Rwandan citizens and locking them up in non-designated areas, as well as hosting and facilitating dissidents who have declared war on the Kigali administration.
After close to 3 years of no business at the borders, Rwanda reopened it on 31st January, 2022.
The border re-opening followed a visit by the then Commander of Land Forces, Gen. Muhoozi Kainerugaba, to Rwanda where he met president Paul Kagame over the long existing misunderstanding between the 2 countries.