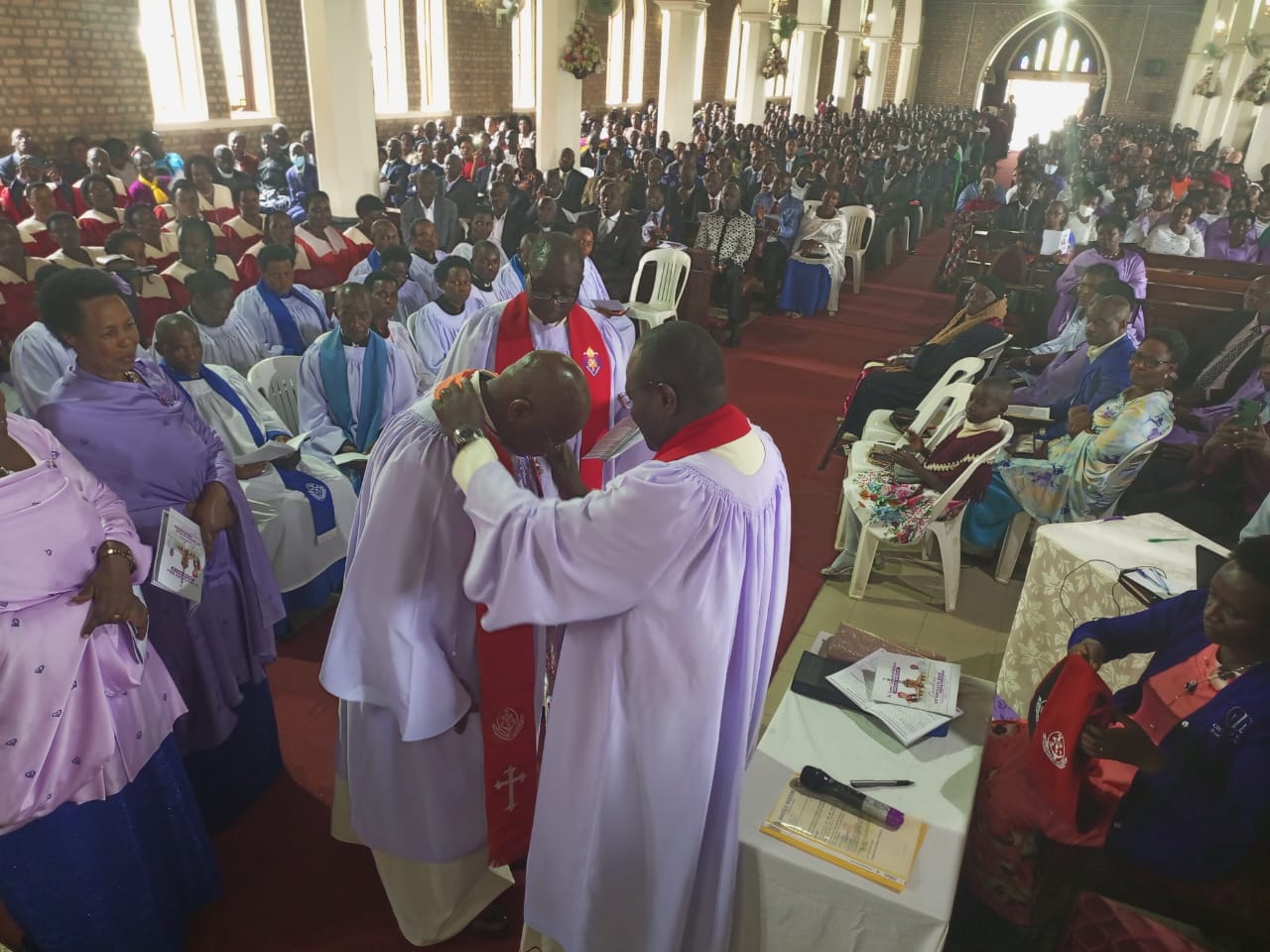 Former Mbarara All Saints' Rev. Mwesigye installed as 9th Dean for Ankole diocese
By Amos Kakungulu
Mbarara – Joy and jubilation polarized Christians at St. James Cathedral Ruharo as the man of God venerable Rev. Canon Bobs Mwesigye, a former greater Mbarara (All Saints Church) Archdeacon was being installed as the 9th Diocesan Dean  for Ankole diocese.
Rev. Mwesigye has been the one of most adorable Archdeacons in the diocese of Ankole because of his humour when preaching the word of God which  attracted the attendance of many Christians every each time during service.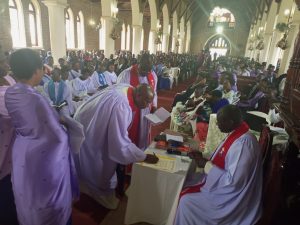 The installation of Rev. Mwesigye was on Sunday at St. Cathedral Church Ruharo. He has been in the office of Dean for only four months since he was appointed.
He has been installed at the age of 51. He was installed by the Bishop of Ankole Diocese Rt. Bishop Dr. Sheldon Mwesigwa assisted by the Diocesan Secretary Rev. Can. Edison Nabasa.
Rev. Mwesigye is praised of the work he rendered and committed towards the construction of Mbarara All Saints Church that cost about Shs9b. It is one of the the biggest Churches in East Africa that sits more than 7,000 people.
He is now in the record books of Diocesan deans since the existence of Ankole Diocese, Ruharo and these include Rev. William Bamutungire, Rev. Sebei Rwabushaija, Rev. Gashumu Kamondo, Rev. Herbert Begumanya, Rev. Can. John Kabito, Rev. Can Amos Magyezi, Rev. Can. Ganafa, Can. Kamomo, and Rev. Can. Bobs Mwesigye.
According to the hierarchy of a dioceses, a dean is the commissary to the Bishop, he takes care of the diocese when the Bishop is not around. He is also the head of clergy in the whole diocese.
In his speech, Rt. Bishop Mwesigye urged Christians to focus on development, adding that they should emphasize on the projects that will generate income like coffee growing, tree planting and other agricultural products that generate money.
Barnabus Taremwe, who was the chief guest appealed to Christians, parents and government  to ensure the young generation learn their mother tongue, saying that children of today must be taught their local language if the African culture is to be maintained.
He also urged Christians to avoid sectarianism and tribalism. Taremwa is one of the influential businessmen in Mbarara and Uganda. He is the owner of Kosiya Hotel in Nkokonjeru.