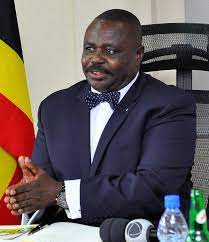 FOOTBALL TO OBSERVE A MINUTE OF SILENCE BEFORE KICKOFF FUFA COMPETITION MATCHES IN HONOUR OF FALLEN SPEAKER OULANYAH
The Federation of Uganda Football Association (FUFA), joins the rest of Ugandans in mourning the former Speaker of Parliament of Uganda, Rt. Hon. Speaker of the Jacob L'Okori Oulanyah who passed away on Sunday 20th March 2022 in Seattle, Washington, USA.
The Rt. Honorable Speaker Oulanyah was a football loving person.
He was a goalkeeper of the Parliamentary football team, served as Patron of the Acholi Province Drum Team and was the Chief Guest at the 2021 Airtel FUFA Awards in Munyonyo-Speke Resort when he unconditionally pledged his support to football in the Country.
The beautiful game will remember and miss him always.
FUFA has directed all football clubs across Uganda to observe a minute of silence before kickoff of all FUFA match competitions (Women and Men) between Wednesday 6th and Sunday 10th April 2022 in memory of the fallen Speaker.
FUFA Communication Director Ahmed Hussein confirmed that all matches at the Districts, through Regions, FUFA Big League, women Competitions and the Uganda Premier League will observe the minute of silence for the period communicated.
"All clubs, referees, players, officials and other football stakeholders are requested to take this communication into action starting today. The players will wear black arm bands.
FUFA continues to convey its heartfelt condolences to the family and the entire football fraternity on the loss of a gallant football supporter, may his soul rest in peace," The statement reads in part.