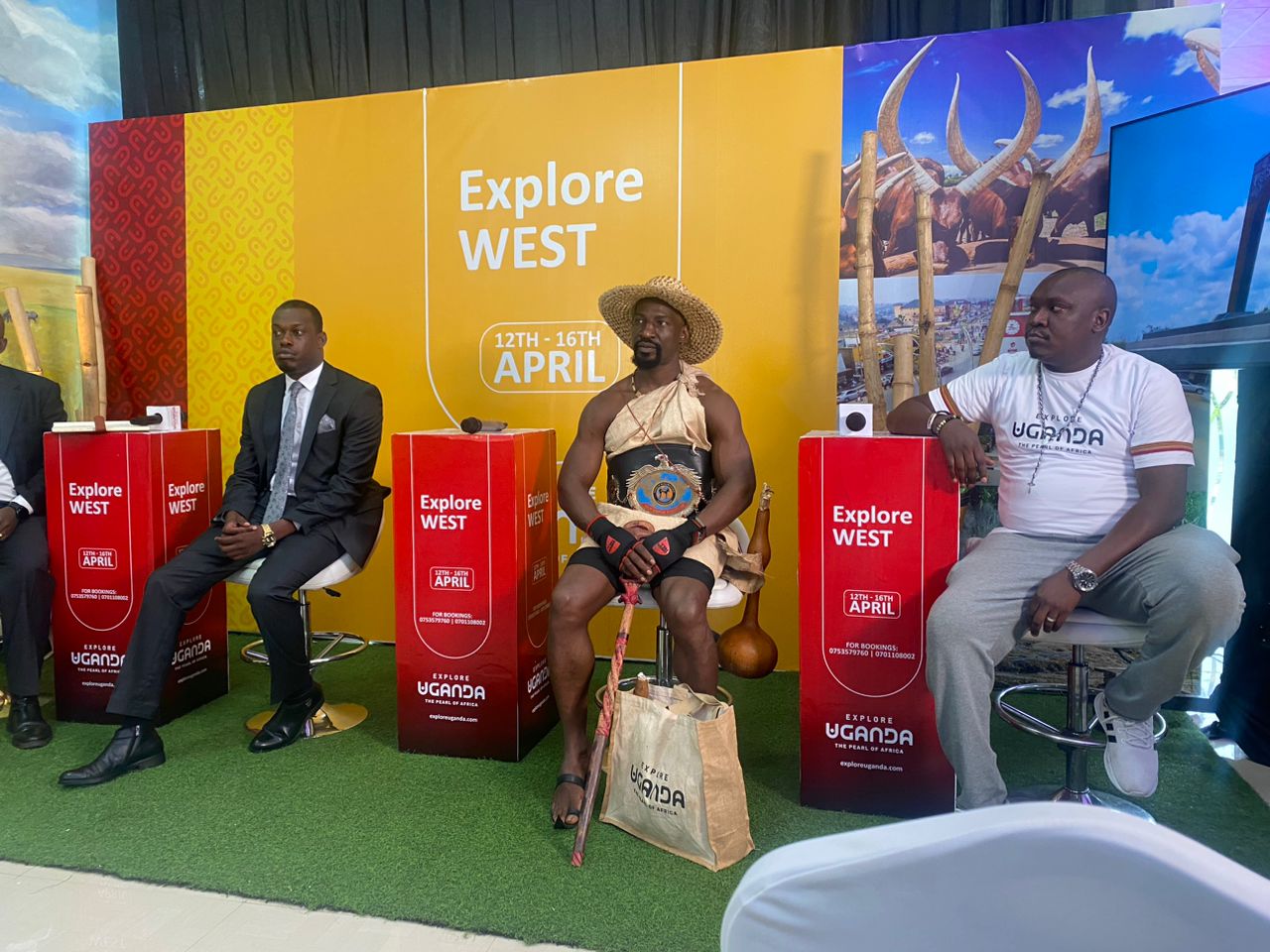 Explore West: Government launches campaign to promote domestic tourism 
By Evans Najuna
Kampala – The Ministry Tourism, Wildlife and Antiquities, through Uganda Tourism Board (UTB) on Tuesday launched a local campaign in a bid to boost domestic tourism at Kampala tourism centre at Sheraton Hotel in Kampala.
Dubbed Explore West; the campaign aims to interest Ugandans into visiting various tourism sites in western Uganda.
The event was attended by State Minister for Tourism, Martin Bahinduka Mugarra as chief guest, comedian Patrick Idringi aka Salvado together with Uganda's kickboxing champion Moses Golola and Lyazi Vivian, a Commissioner from the Ministry of Tourism.
Minister Mugarra rallied all Ugandans to come and join the campaign so as to embrace and boost domestic tourism. He noted that the campaign had previously been initiated by his predecessor Godfrey Kiwanda, but was modified to Explore Uganda the Pearl of Africa both in and outside the country.
He further appreciated Ugandans who have tried to promote destination Uganda especially during the difficult time of Covid-19. He added before the pandemic in 2020, UWEC had a total visit of about 380,000 tourists and by the end of 2022 despite Covid challenges, the total number of visitors had increased to about 480,000.
According to the minister, this has been an improvement in total domestic tourism. He applauded Ugandans for the continued patriotism.
He however lashed at those who have been saying that tourism is expensive; a thing he says is not true as Uganda's  facilities are rated the cheapest in the whole world.
He noted that the road network in the country has tremendously improved especially the one leading to the tourism sites. Mugarra conclusively said that the Explore Uganda campaign is aimed at touring all parts of Uganda as it was in 2022 in the eastern region in Tororo, Mt. Elgon and now western Uganda until the whole country is covered.
Commissioner Lyazi explained that the Explore West campaign will commence on 12th April through 16th April 2023; with the flag off ceremony at Uganda Museum.
The first stopover will be at Kayabwe trading centre at the equator monuments and the journey will continue to cover some places of interest including but not limited to; Igongo museum, eclipse monument in Biharwe, Mugaba Palace, Kyambura tea growers' estate, Lake Nkugute, Kyambura Gorge, Katungulu Fishing Village, Mweya Penisnula in the Queen Elizabeth National Park, Katwe Nyamwamba Valley, Sempaya Hot Springs in Semuliki, Amabere ga Nyinamwiru, Kirenzi Hill, the Tooro cultural trail among others.
She assured the travelers that there will be enough security, and transportation will be provided at no cost. The commissioner reminded the travelers that with due time those willing to accompany the team will be informed on fares of facilities along the way.
Comedian Patrick Idringi, and Moses Golola also expressed their readiness to participate in the Explore West campaign. Golola said all destinations are of his interest, but his most interesting sites are where the Bachwezi lived, and where Kayikuzi disappeared when was being chased by Walumbe.