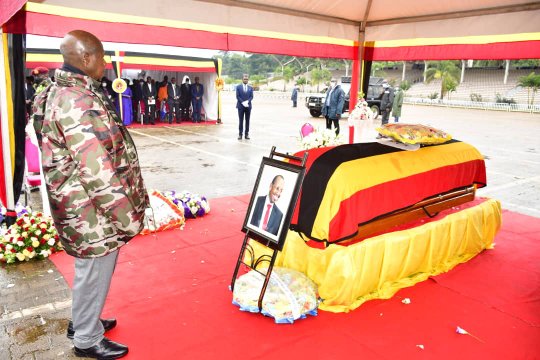 Eulogy! Museveni describes Muhakanizi's demise as big loss to Uganda
By Evans Najuna
Kampala – President Museveni has described the death of former Permanent Secretary in the Office of Prime Minister Keith Muhakanizi who was also the longest serving Permanent Secretary to the Ministry of Finance and Treasury as a 'Big loss to the country.'
Museveni made the remarks while speaking as chief government mourner of the late Muhakanizi on Saturday at Kololo Independence grounds in Kampala.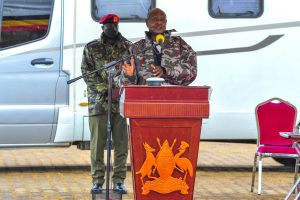 Museveni who braved the chilly Saturday, joined hundreds of mourners who accompanied the family and friends of late Muhakanizi together with other government civil servants at Kololo to accord him an official send-off as their fellow senior civil servant.
Addressing fellow mourner, the president stated that he came to be with family, friends and government to bear witness to Muhakanizi's life for the commendable service he rendered to Uganda.
He recommended his work and described him as 'a big loss' to Uganda. Museveni added that the convergence of his group like the late Professor Emmanuel Tumusiime Mutebile, late Chris Kassami, the current Deputy Governor Bank of Uganda Michael Atingi-Ego and others, in their belief of controlling inflation an encouraging private sector-led growth of the economy turned the NRA instruments of guerrilla mobilization into a very helpful partnership that has seen the economy grow from USD1.5bn in 1986 to nearly Shs50b now.
President Museveni broke the silence when he said that, he often enjoyed the intellectual tug of war with these technocrats while challenging him on how to respond to them in adopting their positive contributions in problem solving.
He noted that, the late Muhakanizi was a hard worker because in his struggle, he needed figures and Muhakanizi would be having the figures. "I didn't know that Muhakanizi was a zealot of the International Monetary Fund (IMF) approach," Museveni said.
The president also remembered how the Muhakanizi and Mutebile group rightly advised him against the minimum wage because of the same logic.
"Things in the economy are determined by the market. We still have an excess of labour compared to the jobs. If you artificially overprice the cost of labour, you will undermine the growth of the economy," he added.
Museveni informed mourners that he met with Muhakanizi before he went for his treatment not very long ago and they had a very long discussion. "It was a shock when the Prime Minister called me and told me he had died. I was aware he was undergoing treatment for cancer in Italy," the president said.
The president conclusively said that it was a big loss of the late Mutebile and now Muhakinizi is also gone, adding that they were not just employees but partners of the NRM in the recovery of the economy.
"I salute him and acknowledge his historical contribution. May his soul rest in eternal peace," the president concluded.
Muhakanizi who died on Thursday 13th of April in Milan, Italy while on cancer-related treatment will be laid to rest on Sunday 23rd April 2023 in Kabula County, Lyantonde district.