Equity Bank opens up new branch in Ntungamo district to support women & youth with affordable financial services
By Evans Najuna 
Ntungamo – As one of the financial industry player, Equity Bank Uganda on Wednesday opened up a new branch in Ntungamo district in western Uganda.
The new branch was commissioned by the First Lady Janet Kataha Museveni who was the guest of honour.
Speaking at the event, the First Lady was very pleased to have Equity Bank in Ntungamo district with a new product on board as 'Equi-Mama,'  adding that: "I expressed my appreciation to Equity Group's leadership for fulfilling my request to open a bank branch in Ntungamo district and for creating a product that specifically benefits women."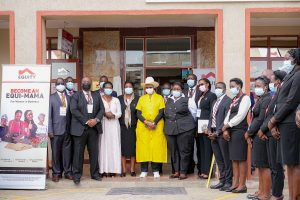 She added that the opening of Equity Bank branch in Ntungamo and launch of Equi-Mama represents a significant step in empowering small-scale women and youth entrepreneurs.
Mrs. Museveni affirmed that, the innovation of Equi-Mama product will offer a unique feature that will empower women and youth in managing their finances, obtaining low-interest loans.
She also noted that this will help in accessing financial advisors, enjoying flexible payment options, and acquiring entrepreneurial education.  She explained that these programs are not only complement the government's efforts to increase financial inclusion but also contribute to improving household incomes. "I commend the Board and Management of Equity Bank for addressing the unique needs of women and the youth who often face difficulties in accessing loans due to a lack of collateral and limitations in exercising their property rights" she stated.
The First Lady further urged  Ntungamo leaders to mobilize women and youth to take the advantage of the opportunities provided by the bank and its innovations. She  encouraged the beneficiaries to target, collaborate and practice financial discipline by saving and investing their savings before borrowing. "Together, we can uplift and empower the women and youth of Uganda, ensuring a brighter future for our communities and our nation as a whole"  she concluded.
 The Managing Director of Equity Bank Anthony Kituuka in his speech said, he was very proud to see that the bank had taken significant steps in supporting women and empowering them to achieve their financial goals. "We officially launch our Equi-Mama product, designed for women, specifically to address the unique needs of women at micro level," Kituuka said.
Kituuka added that the product also comes with an insurance cover attached, before explaining that Equi-Mama will offer insurance for maternity, life, catastrophe, fire, and temporary or permanent disability. "During maternity, the bank gives the female customer maternity support which also includes antenatal insurance," he added.
Kituuka also noted that the bank has taken steps to ensure that the product is accessible to women of all backgrounds and income levels. "We offer flexible payment options and no application fees, making it easier for women to access our services," Kituuka added.
This development comes at a time when the government is trying to support the citizenry like businesswomen especially those in rural areas to access affordable funding like soft loans with  low interest rates.