Cough our Money! Division leaders gang up against Mayor Kakyebezi, Town Clerk Abireebe over Shs326m 
By Amos Kakungulu
Mbarara – There is tension in the Mbarara city council especially the Mayor and Town Clerk as leaders of city divisions (North and South) have threatened to sue the duo if they fail to pay them Shs326m as statutory remittance funds of  50% local revenue collection.
This comes after the leadership of city Mayor Robert Mugabe Kakyebezi, and Town Clerk Assey Abireebe failed to pay a sum of about Sh326m that is demanded by the two divisions as their statutory remittances.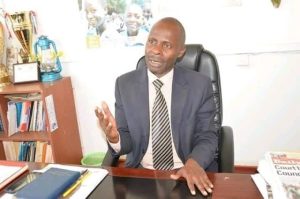 It is now about one year since these divisions have been demanding their money from the city council.
By law, division councils are mandated to collect local revenue and other taxes from the ground and send the money to the city council or mother council,  then the city council sends the money to the Ministry of Finance, which finally sends it back to the city council.
According to information we have, Mbarara city south demands about Shs230m while the north division about Shs96m.
According to the law that governs local revenue, this came about as a result of current reforms in government. This is also as a result of introduction of TSA (Treasury Single Account) where all government funds are collected on consolidated fund and spent through TSA held in the Bank of Uganda.
Public Finance Management Act 2015, is being implemented where by the government wants all public revenue and expenditure to be captured and consolidated as a measure of government economic performance.
As a result, some systems were introduced to collect revenue which include IRAS, E-LOGREV and others. In Mbarara city, they are using IRAS (Integrated Revenue Administration System).
Money is collected through URA account and sent to consolidated account of government. The MOFPED sends the money back to the city general fund. The city appropriates the money according to the law, that is Local Government Act, Financial accounting regulations 2007, PFMA 2015, i.e. Public Finance Management Act 2015.
Accordingly, the city retains 50% and sends 50% to the divisions. On the 50% retained by the city, it's put back at 100% and again appropriates 30% to divisions. The Local Governments Act, part 8- financial provisions section 85, 50% is retained at division level, 50%sent to city level, 30% out of 50% the city gets is sent back to divisions as equalisation grants. Out of 50% at the division, 20% is sent to villages.
However, of the money demanded,  Mbarara city north and south have not received any single money from the mother council (Mbarara city council).
The division mayors, Gumisiriza Kyabwisho of north and Jomo Mugabe of south division, respectively have written letters to the city Mayor Kakyebezi and Town Clerk but nothing has come out successfully besides empty promises.
They have engaged in various meetings to agree on when the city council will pay these remittances. In the last meeting that held at the city council, with the leaders of the divisions, city council leaders committed themselves that they are going to pay the money in instalments effective this April.
According to sources, it is said that the money that was meant for remittances for the divisions, some city council officials diverted it to run the city festival activities that was held in February 2023 at Igongo Cultural Center for Symposium and at Booms Grounds for motor Rallies and other activities that took place to celebrate the city festival.
It is said that the city council released about Shs70m for the festival but they spent more than Shs200m including the money that was collected from the sponsors and other funders.
Sources further say that the organisation of the city festival was centered around few individuals in the city council who might have benefited on behalf of other staff.
It is also said that on the 14th April 2023, Mbarara city council spent about Shs17m on a dinner at Signature Bar and Restaurant that was prepared for the visitors from LAVRLAC. This is something which some sources say that the money was not clearly accounted for.
Recently, the Public Accounts Committee of Parliament directed, Mbarara city Town Clerk to immediately pay the money that is demanded by the city  division councils, but it seems the directive fell on deaf ears, because up to now the divisions are still demanding their money.
Mugabe, the Mbarara city south division Mayor said the city council has not paid their money (50%) which they are supposed to get from the local revenue collected.
"I wrote to my boss Mayor Kakyebezi sometime back reminding him about our money, but it seems he didn't take it serious. Service delivery has been crippled due to the fact that these people have not paid us our money.
We had agreed that these people should be paying us in instalments effective April but now the month is ending, and they have not paid anything.  All we want is our money, we want our money so that we can serve our people," Mugabe said.
Didas Muhanguzi, Town Clerk Mbarara city south division also says that if they don't receive the money from the city council as they had expected, the implementation of projects will be affected which definitely comprises service delivery in the division.
"We should not be lamenting because we are asking for what is due to us as a division. This is the money that we collected and it is supposed to come back to us. We are asking what is meant for us," Muhanguzi said.
Speaking to Wallnetnews, Silver Mugisha, the Speaker of Mbarara city north said that they have failed to deliver services to people in the division because the city council delays to send them money which due to them.
"We have tried to meet the city council and had a meeting recently, the same city council leaders promised to send that money, that they will send it within six months on instalments starting within this month, but the month is ending.
We said that before the first quarter of financial year 2023-2024, if they don't fulfill their commitment we shall take all of them to court," Mugisha said.