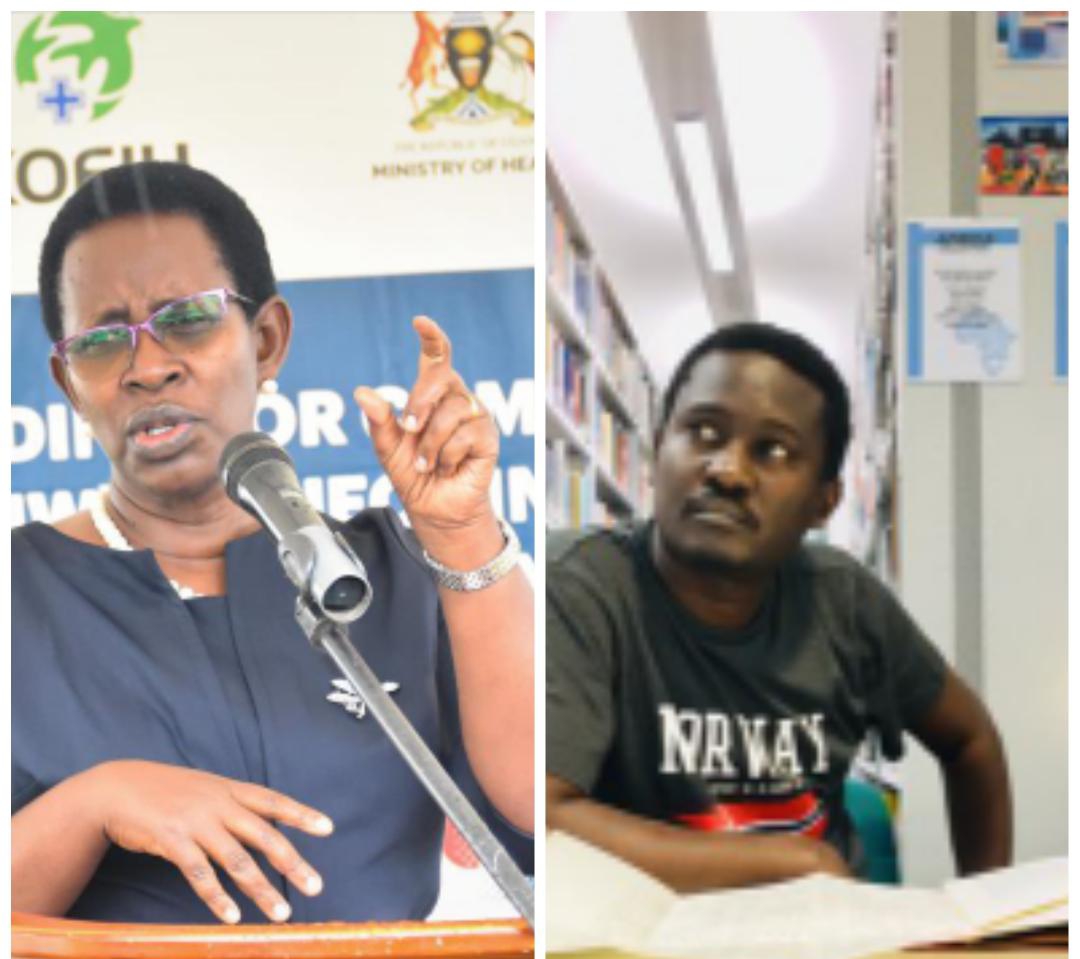 Back off my Twitter handle! Ministry of Health PS Dr. Atwiine tells off Dr. Ssentongo
By Evans Najuna
Kampala – A serious cold war has erupted on social media especially on twitter after renowned cartoonist Dr. Jimmy Spire Ssentongo reported that he was blocked by Minister of Health Permanent Secretary Dr. Diana Atwiine.
Apparently, Ministry of Health seems to be choking on outbursts by the online exhibition for their poor services and the status of the health facilities across the country. The exhibition was spearheaded by Dr. Spire has since attracted most Ugandans from all sectors.
On Thursday, Dr. Spire reported that: "Interesting! I have been tagging someone who is supposed to serve and listen to us, not knowing…," Spire twitted.
While responding to the same, Dr. Atwiine, via a Twitter space that was hosted on Thursday night by former Vision Group CEO Robert Kabushenga, did not have any kind words for Spire but advised him and other activists to direct their grievances to the Ministry of Health portal/ Twitter handle.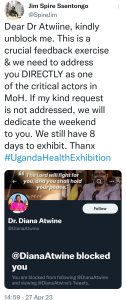 She confirmed that Dr. Spire was blocked because he was causing her personal twitter handle too much traffic flow. She added that the ministry's twitter handle is the one that the public should use because it's open and everyone at the ministry can access it.
She noted the concern but explained that her Twitter handle is mainly for personal issues.
However, this did not go down well with Dr. Spire, and as we report, on Friday, Dr. Spire went on his Twitter handle and threatened to break-off the exhibition for the two days of weekend until Dr. Atwiine unblocks him.
"Dr. Atwiine attended part of it. Her explanation was floating in the air, not owning up to much of what we exhibited. She says she blocked me to limit traffic on her personal account, that we should use @MinofHealthUG," Spire tweeted.
He also opined that Dr. Atwiine should use her account to address official matters adding that, she tweets official matters through it. "Her dismissive submission shows she hasn't seen or understood the exhibition," Dr. Spire added.
He advised tweeps to be directed to her handle until she unlocks him. "Let's make her traffic busier. Unblock me, or this weekend will be dedicated to removing plugs from your ears. With love. Thanks," Dr. Spire tweeted.
How Exhibitions started
The developments comes in after  Dr. Spire recently staged a successful online pothole exhibition on Kampala Capital City roads which also attracted a lot outburst from public, and exposed the rote of roads in Kampala.
This was later responded to by city authorities with an outcry of financial constraints that prompted president Museveni to direct the Ministry of Finance to release Shs6b towards the same cause.
Spire later announced that, the exhibition was not only targeting KCCA but all government departments that are supposed to offer service delivery to the public/citizens. His next destination was the Ministry of Health facilities to which he announced another one week online exhibition.
Through this online exhibition, activists were tagging all government official responsible for the mess and official handles for the same departments.
However, the heat seems to have become too hot for Dr. Atwiine, and couldn't handle the pressure like her counterparts at KCCA.
Who is Dr. Diana Atwiine 
Formerly, Dr. Diana Atwiine was the Head of State House Health Monitoring Unit before replacing Dr. Asuman Lukwago, as Permanent Secretary, Ministry of Health.
Dr. Atwiine came to the limelight after the famous suspension of health workers at Nakawuka Health Centre III, where president Museveni suspended 11 health workers prior to her appointment at the Ministry. She is also said to have been president Museveni's physician, and consultant.