Mbarara City Tycoon In Land Grabbing Saga, Council Leaders At War
By Our Reporter
Mbarara
There  is tension in Mbarara City North Division,  Mbarara City when the council has divided into two groups after the allegations that one of the City Tycoons identified as Buryo is taking off the Kyarwabuganda land that is well known as a government land.
Last week, the issue of Kyarwabuganda land was brought in council as councilors tasked the Division Mayor Gumisiriza Kyabwisho to force the Division Chairman Lands committee one Julius and Division Town Clerk to step aside for investigation into the the matter of Kyarwabuganda land. Councilors led by Nicholas Nuwagaba  claim that these two individuals have some knowledge on how Kyarwabuganda was sold off to this tycoon. That since the land saga  started, they have been adamant yet they are the responsible people on all Division lands.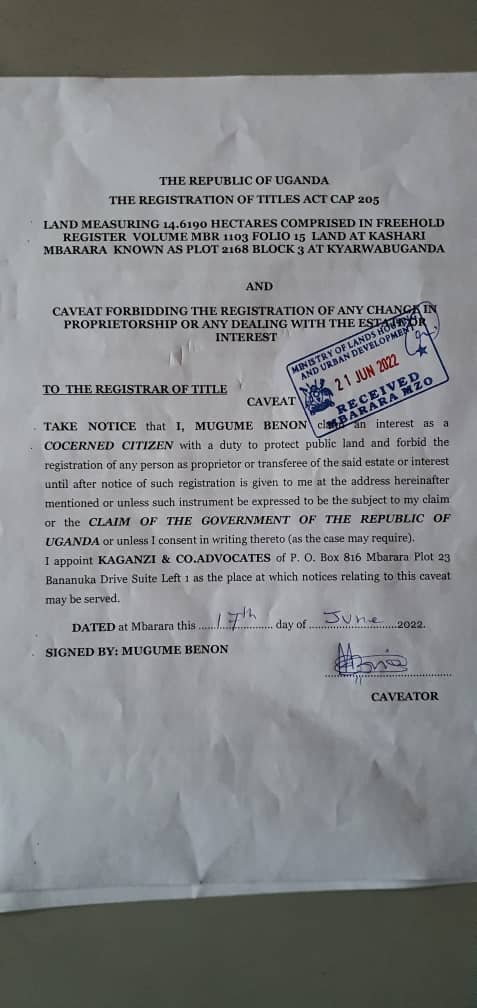 Sources allege that this Land was illegally sold to Tycoon Buryo at 350million yet that land is valued at more than 2.5billion. It is alleged that Buryo bought this government land with an individual  called Rodgers .A who said to have sold it illegally to Buryo without the consent of the leadership of the council.  As we speak, there are two caveats that have so far been put on this land. The first caveat was put by the Mbarara City Council in conjunction with the office of RCC, the second one was put by Former LC3 Chairman Benon Mugume who acted as the concerned Citizen in this case.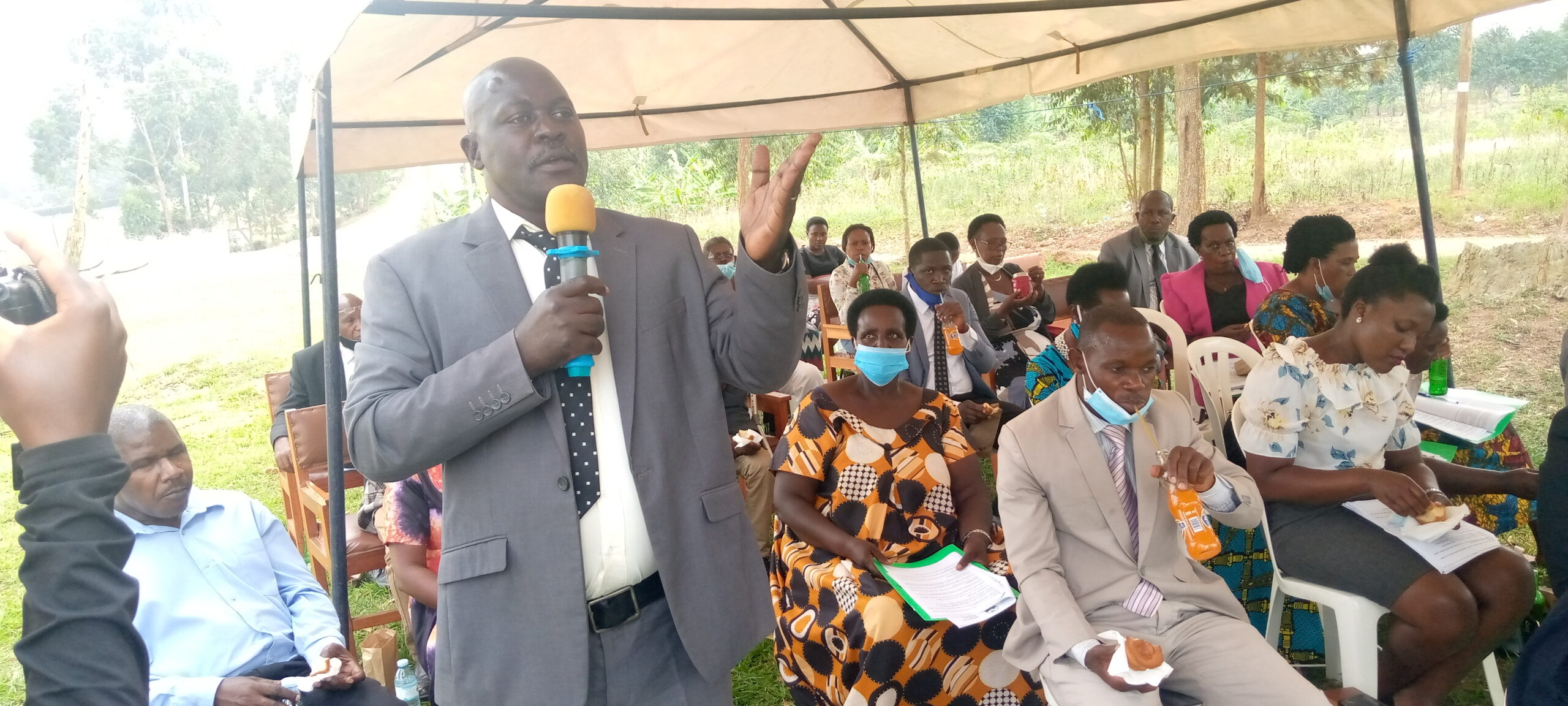 Mugume's caveat letter through his Lawyer Kaganzi & CO-ADVOCATES claim an interest as a concerned Citizen with a duty to protect public land and forbid the registration of any person as proprietor or transferee of the said estate or interest until after notice of such registration is given to him at the address hereinafter mentioned or unless such instrument be expressed to the subject of his claim. Mugume alleged that there might be connivance between the land grabbers and the Mbarara City North Division Leadership. Mugume has been beefing against Mayor Kyabwisho for over  years since Kyabwisho defeated him twice for the same seat. Mugume is the Predecessor of Kyabwisho, former Kakika Division before Mbarara City was elevated to a city status. Sources reveal that Mugume is still not satisfied with the last elections when Kyabwisho was declared the winner for Mbarara City North Division Mayorship, he is now on ground on restructuring for the next election come 2026.
Mayor Kyabwisho trashed the allegations that the division is in connivance with Tycoon Buryo to take Kyarwabuganda land. He said that the said land grabbers came at one night and surveyed the whole land and processed a land title immidiately. That as leaders, they have taken all necessary steps and put a caveat on the land title and now they are pushing to ensure that the land title that is put on this land be cancelled. " I regard the allegations that Mbarara City North  Division Council Leaders are in connivance with Land grabbers as malice and false information that intends to tarnish our reputation as leaders. But what I know, the people who were targeting to grab this land of Kyarwabuganda had put huge amounts of money but they failed before and later they became guilty and now they are influencing some group of my councilors to disorganize my council. It is well known that some of these councilors were bribed, compromised by some of my opponents to to confuse the public. Actually it's the reason why some of these councilors came to the the council and tasked me to force my Town Clerk and the chairman area land board committee to step aside claiming that they knew about how this land is being grabbed. My councilors are only being used, politicking around and dealing with mafias. I will not be influenced by any person or be forced by anyone to chase the town clerk or the chairman of land board committee when there is no valid evidence",  said Kyabwisho.
Kyabwisho added that he is disappointed with Security that they have not supported the council to fight against these land grabbers. He revealed that the people who are  trying to grab this land own UPDF guns but because they re dealing with some big UPDF Officials, they are untouchables.
Councilor Nicolus Nuwagaba while speaking to our reporter revealed that his biggest concern against the Mbarara City North Chairman of land board is that all the documents that they have seen there is his signature and his names. That it's the reason why councilors wanted him to step aside for further investigations. That some of these documents and forms were filled some time back when Kakika was still a division and he was the chairman land board." Why I wanted the Chairman land board to step aside is that since the saga of this land in dispute was started, he has never come out to show the public that government land was being taken by grabbers, this indicated that may be the chairman was hiding something. Already his signatures were seen on some documents about this land in question. So we couldn't spare him to give us any excuses. I was also disappointed by our mayor to come up and defend the chairman land board that his signatures were forged, how could that happen? We cant allow government land go like that, we must hold them accountable if  Kyarwabuganda land is taken."said Nuwagaba.
Kyarwabuganda land is about 43 hectares. Within this land there is a health centre 3 Kyarwabuganda, trading centre, two dams including Byasiina dam,  two boreholes and other resources that help the community.