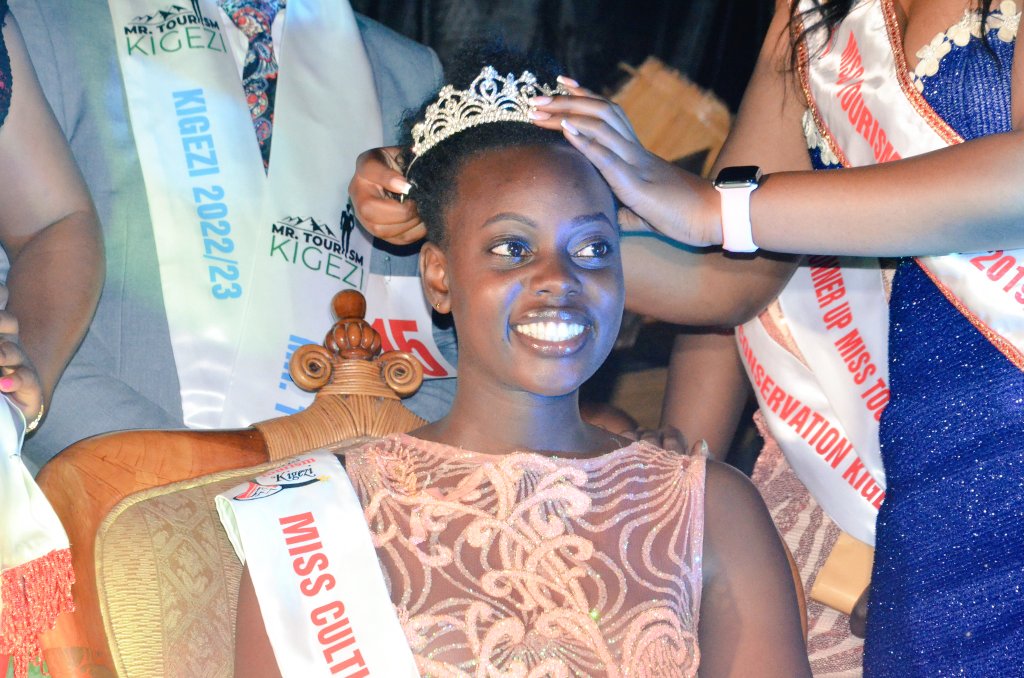 Sapiosexual Men turn me on-Miss Tourism 2022 Second Runner-up
By Our Reporter
During an exclusive interview with this publication, Ayebare Denise; the second runner-up in the just concluded Miss Tourism contest spoke to us about her life, relationships and more, read on.
WN:  How can your best describe yourself?
DA: I am Ayebare Denise 19years old. I have an outgoing personality though I am an ambivert. I am passionate about debate, public speech and travelling. I love exploring which has made me resilient.
WN:  Describe you're your childhood experience?
DA:  I come from a middle-income family that has deep roots in Jesus Christ. From Kabwire Parish, Bungagari Rukungiri District. My parents are Mr & Mrs Ahabwe Samuel and Kembabazi Charity. I have lived with both my parents, and I am the first born of three biological children. Well we did not have it easy while growing up but I guess it has been God's grace throughout.
WN:  Tell us about your educational background?
DA: I finished my primary seven from Bwanga Progressive Primary School. I then moved to Trinity College Nabbingo and St. Katherine Secondary School, and finished my A level from Naalya SS Namugongo.
I also hold a Diploma in Legal studies, a certificate in fundamentals of international law. A Diploma in Environmental science, certificate in international relations, and certificate in Corruption in political, economic and social context. I am currently pursuing a Bachelors degree of Law at Makerere University.
WN: How was the experience at the just concluded Miss Tourism beauty contest?
DA: The contest was an incredible journey. I have learnt three things, that I guess have made me a better person i.e. discipline, persistence and belief in one's self. Though it has not been an easy one, I went into the contest with a mind to participate and not competition which helped me a great deal.
WN:  How do you intend to use your position to address challenges in tourism industry in Kigezi sub-region and at the national level?
DA:  I intend to do school outreaches in my region because majority of the young population tend to be in school and this is to reinstate our cultural values (morals and principles) that are degrading.
Sometimes when we talk about tourism, people rush to think about the trees, animals but it goes deep into our values and ethics which we no longer have as a generation. We no longer have the sense of belonging and identity that stems from there. For my region I hope to enhance and build such values.
At the national level, I hope to use the platform to call for urgent climate action in the country. Noticing that the tourism sector cannot thrive and strive when animals are going extinct, people are encroaching on national parks and swamps that protect the bio-diversity and eco systems. Therefore as a country we need to turn to use of renewable energy and sustainable means of using our natural resources before we reach a dead end where cannot reverse anything, keeping in mind that the famous snow on Mountain Rwenzori has started melting due to the high levels of temperature attributed to climate change.
WN: Becoming the second runner-up at Uganda's Miss Tourism contest means a direct ticket to Miss Tourism International contest. What should the country expect from you?
DA:  Well, going for Miss Tourism International is a big platform representing the beautiful people of Uganda which is a great opportunity but,  one that pushes you to do your best in order to make the country proud. Therefore one would have to do their best to meet the country's expectations.
WN: What are some of the challenges you faced during the Miss Tourism contest?
DA: One of the biggest challenges is that society perceives pageants in a negative perception where they think pageants are for spoilt a person which is not the case. This means you don't have the moral support which is a bit difficult to cope with
WN:  How best do you think the challenges be addressed using this position, and higher authorities in the country?
DA: With this platform, it's important to show to the world out there that contests are not what they think are. Instead they should embrace it positively, the hard work of girls trying their level best to be somewhere in society.
And mostly these contests build self esteem, confidence teach you what you don't learn in school but wish you had. The network building that comes with it is one that the world has to see and appreciate. Therefore I hope to show society that this is a platform that rather builds one positively in comparison to what they think.
The authorities are already doing their part in regards to that though they should continuously support the cause and give it more publicity on what it is about for society to change their mindsets towards what pageants are.
WN:  Tell us about the project you are running in Kigezi sub-region.
DA:  In regards to my region, I felt there was need to revive our cultural morals and values that are degrading at a fast rate. Children grow up not knowing their local languages, their relatives, local foods and guess what this generation shall call them "the cool kids" which is ridiculous. Therefore at the regional level, I intend to work more towards reviving our culture as the people of Kigezi.
However at the national level, I feel there is need for climate action that entails conservation of eco systems and bio-diversity on what tourism necessarily means.
WN: Why did you choose to contest in Miss Tourism?
DA: I chose Miss Tourism because it gives me a platform to call for inclusion of all individuals and stakeholders involved in climate action.
WN:  What do you value being from the beauty pageant?
DA:  I value the platform for the fact that I am able to impact and inspire many young people out there to believe in what they what to do.
WN:   Were you a model before the pageant?
DA: I wouldn't say I love modeling because apparently I know nothing about it to an extent that fellow queens in the boot camp used to find it a joke so I don't think I am into modeling.
WN:  Whom do you look up to?
DA:  My mother. This is because she has showed me that one can do anything in this world and still be able to pull off quite good results as long as you invest your energy and hard work into it but also everything good is from you not anyone else.
WN: If you were the minister for tourism, how best would you use your position?
DA:  I would call for urgent climate action because this is a problem that is happening but not waiting to happen.
WN:  Are you in a relationship?
DA: I literally have no relationship life and social life I guess.
WN: Who is your ideal type of man?
DA:  Interesting question but I have never indulged into what I would really want…oh no I am still young to think about this (chuckles). Though sapiosexual men turn me on.
WN: What advice do you give to young girls who look up to you?
DA: Winners don't do different things but they do the same things differently.
WN:  What would you like Ugandans to remember about you?
DA: That I made a contribution however small it might have been.
WN: Any last words to your fans and our readers?
DA: Life only becomes easy when you live for others.