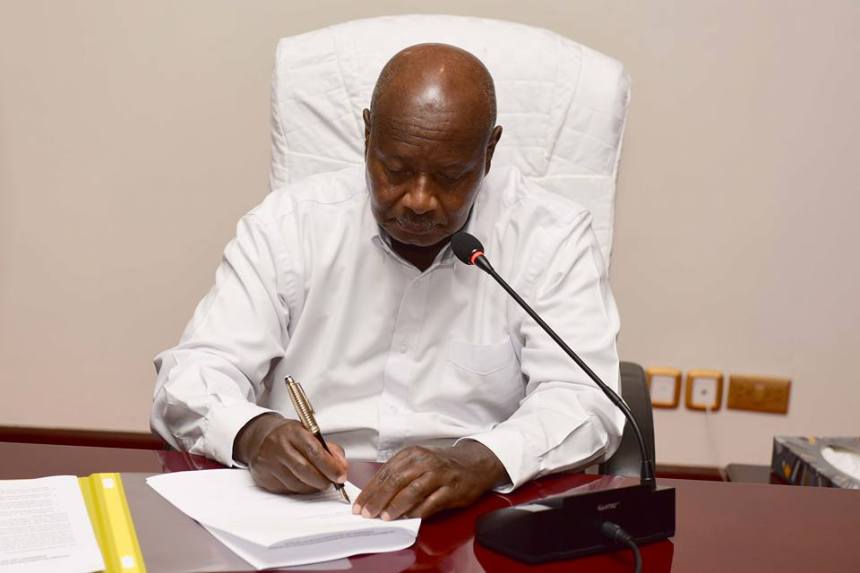 Museveni Signs Computer Misuse Act, Offenders to Face 7 Years Jail Term
President Museveni has today Thursday 13th October 2022 signed four bills into law. The recently passed bills signed into law include;
The Kampala Capital City (Amendment) Act 2022, The Mining and Minerals Act 2022, The physical Planners' Regulatory Act 2022 and The Computer Misuse ( Amendment) Act 2022.
Among the bills passed is the controversial computer misuse (Amendment) Act 2022, which was moved by Kampala central MP Hon. Muhammad Nsereko. Several Ugandans are skeptical about this newly signed law as it imposes tougher penalties for ciber crime related offences.
The Bill which now becomes an Act of Parliament was passed by the August House on September 8, 2022, amid criticism from several human rights defenders and other stakeholders who argued that it was drafted in bad faith.
This new law, lists a number of punitive measures against people who send malicious information, hate speech, unsolicited information and share information about children without the consent of their parents or guardians.
Ugandans are more concerned with contents of section 12 of the principal Act which stipulate that; a person who, without authorization, accesses or intercepts any program or another person's data or information; voices or video records another person; or shares any information about or that relates to another person, commits an offence and on conviction, he or she is to pay a fine of seven hundred fifty currency points or imprisonment of 10years or both. Most people are wondering how one will obtain authorization from the person or what if the person you seek authorization from turns against you and denies giving it.
According to Section 26A, of this Act relates to Misleading or malicious information and it states that; A person shall not send, share or transmit any misleading or malicious information about or relating to any person through a computer. Whoever contravenes this section shall be liable, on conviction to a fine of 15millions or imprisonment of 7years or both.
A person who commits the offence under the clauses shall on conviction, suffer either a fine of Shs 15millions or 7years in jail or both punishments.
It also criminalises writing, sending or sharing of any information through a computer which is likely to ridicule, degrade or demean another person, group of persons, tribe, ethnicity, religion, or gender; create divisions among persons, a tribe, an ethnicity, a religion or gender; and or, promote hostility against a person, group of persons, a tribe, an ethnicity group, a religion or gender.