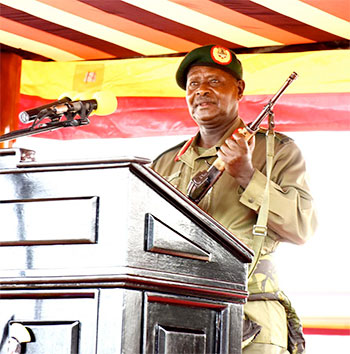 Gen. Takirwa to deputise Gen. Muhanga as commander Land Forces
By Wod Omoro
Kampala – President Yoweri Kaguta Museveni who is the Commander in Chief of the UPDF has appointed Maj. Gen. Francis Takirwa Deputy Commander of Land Forces
Gen Takirwa will be deputizing Maj Gen Muhanga Kanyanja who in October this year replaced Gen. Muhoozi Kainerugaba as Land Forces Commander
Takirwa has since 2019 been serving as Commander of the UPDF's Second Division in Makenke, Mbarara.
In the new changes announced Wednesday 7th December 2022 by the army deputy spokesperson Deo Akiiki, the 2nd Division will now be under the command of Bob Okigi, who has also been also promoted from Brigadier General to Major General.
In other changes, Maj. Gen. J. Bakasumba has been appointed the Acting Chief of Staff of the Land Forces.