BoU hands over refurbished Mutebile memorial maternity ward at Rubaya Health Center IV 
By Byamukama Libino
Kabale – Bank of Uganda on Friday handed over a refurbished maternity ward at Rubaya Health Center IV in Lyakarimira Town Council Ndorwa West in memory of the late governor Emmanuel Mutebile.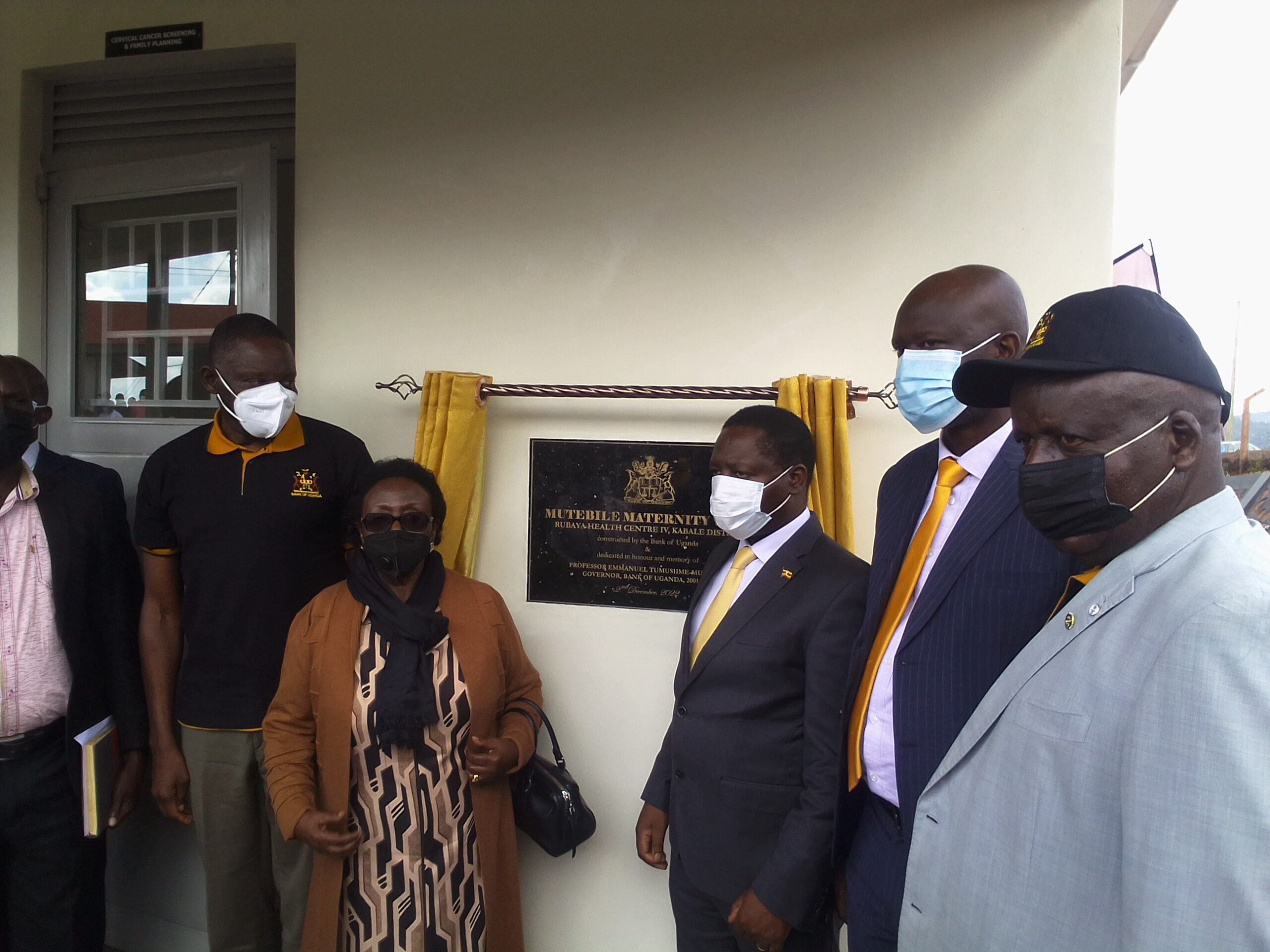 Bank of Uganda under the theme; "Maternal and child healthcare for a healthy society" has supported health centers in Uganda by purchasing medical equipment and infrastructure development.
This journey was started in 2016 when bank of Uganda celebrated 50 years of existence and this was spearheaded by the late governor Prof. Mutebile who was very passionate about helping the needy.
The outreach program has since expanded into nine districts of Jinja, Masaka, and Fort portal, Mbarara, Arua, Mbale, Gulu, Rubanda and Kabale.
Addressing the stakeholders at Lyakarimira Health Center IV, the in-charge Asiimwe Fortunate who was represented by Dr. Masiiko decried under staffing most especially in the caesarean section.
The Kabale District Health Officer Dr. Gilbert Mateka lauded Bank of Uganda for the tremendous developments brought at Lyakarimira Health Center IV.
Dr. Mateka called upon the government to have an emergency ambulance within the district saying that Rubaya sub-county has registered delays which has increased child mortality rate.
He further called for renovation of other health centers, especially Kakomo in Ndorwa West.
The Kabale District LC5 chairperson Nelson Nshangabasheija requested minister David Bahati to extend his request of choosing the next governor Bank of Uganda from Kigezi to President Museveni.
Nshangabasheija further expressed concern on the low budget road fund the district receives saying that Kabale should be given the first priority being a mountainous area, adding that the state of roads worsens whenever it rains.
Michael Atingi-Ego the deputy governor Bank of Uganda said that Mutebile was a  devoted humanitarian, and the Rubaya maternity block symbolizes his enduring legacy of service to humanity
He added that the BoU family believes deeply in the African concept of Obuntu or Ubuntu, and that Prof. Mutebile embodied, exemplified, and lavished that sense of Ubuntu on everyone who interacted fruitfully with him, especially the less fortunate.
He further revealed plans of revamping and retooling Kigorobya Health Centre IV in Hoima District, Rwoburunga Health Centre III in Mitooma District, and Magoro Health Centre III in Katakwi District.
David Bahati the minister of state for trade, industry and cooperatives who was the guest of honour lauded the NRM government for reducing the infant mortality rate among children through services like immunization.
He stated that every sub-county in Ndorwa West has got a health center III  adding that government has plans of establishing a health center IV in every constituency in the country.
Bahati added that government has already secured USD150m to tarmac Katuna-Muko, and USD70m  for Rwakaraba-Bunyonyi roads.
Rubaya health center IV receives about 76 expectant mothers monthly and out of these 47 delivers normally while the 12 through caesarian section.